Fun Day! There is an Anti Aging Serum Giveaway and Healthy Living Bundle opportunity!
The main reason I started this website was to try to get my family healthy. I made this is a documentation for myself and my children so they could look back and find all the recipes "mom used when we were growing up". To have your favorite things in one spot is a big help.
This is also what this Ultimate Healthy Living Bundle is all about as well. It's made by people going through the same thing; people searching to live healthier, make more informed choices, eat better, and use things like essential oils and herbs for health, or homemade beauty products instead of store bought products full of chemicals. Hey, that IS just like me!!
I am affiliate with this bundle, meaning I get a small percentage when you purchase it (which will go toward the purchase of a new water heater, yea!!). Even so, I bought the bundle myself and I love it! I wouldn't put it on here unless it was everything my family and this blog is all about.
Here's some reasons why:
It has 1 year money back guarantee
It has ebooks, ecourses, and bonuses like coupons for great products that normally cost $1030, only costing $29.97!
There are plenty of books about:

A number of essential oil guide books
herbal and natural health guide books
Nutrition books, like how to boost your metabolism
How to naturally clear your skin from eczema
a bunch of books on homestead living and gardening
Books on Healthy Children
Books on meal planning and budgeting
All kinds of books on natural beauty recipes: facial scrubs, lotions, etc.
Real Food recipe books

Ecourses on:

Frugal Grocery Shopping
How to Use Essential Oils
Using Herbs
and Real Food guide in the kitchen

Bonuses that include gift certificate and coupons!
I'll admit, what sold me where the essential oil and natural health books.  I've been learning so much about natural health that I was excited to have something at my fingertips all the time to help me in my learning – especially when the kids are getting sick.
Click Here to find out all the details on the

BOOKS

,

ECOURSES

, and

BONUSES
The Ultimate Healthy Living Bundle will only be on sale for 6 days
from 7am EST on Wednesday, September 10 until 11:59pm EST on Monday, September 15. And don't wait until the last moment – there are only 30,000 bundles available and once they're gone, they're gone!
You can buy with complete confidence because you're covered by our 1-year money back guarantee.
Ok, sales pitch over.  Now on for the giveaway!!!
Anti Aging Serum Giveaway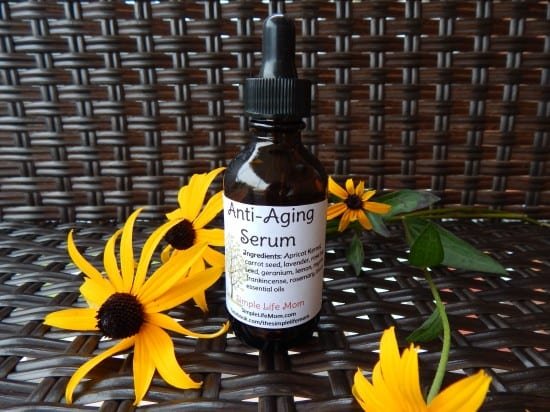 As an extra fun event to go along with the Ultimate Healthy Living Bundle, I decided to have a giveaway.  And what better than my most popular item, my anti-aging serum with 10 essential oils!
This serum contains: apricot kernel, carrot seed , geranium, lemon, lavender, birch, rose hip, rosemary, frankincense, and myrrh essential oils. To read more about why these oils were chosen and their qualities see my Anti-Aging Serum or Anti-Aging Eye Cream posts.
If you'd like to just buy my Anti Aging Serum or Anti-Aging Eye Cream, you can find them on my Etsy Page.
Save