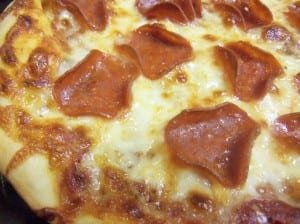 Whole Wheat Pizza Crust and Bread Sticks
Author: Kelly - Simple Life Mom
Prep time: 1 hour 10 mins
Cook time: 15 mins
Total time: 1 hour 25 mins
2 ¼ tsp active dry yeast
2 cups warm water
3 Tbsp olive oil
1 Tbsp sugar (optional)
1 Tbsp salt
4-5 cups flour (I use half unbleached white, half whole wheat)
Dissolve yeast in water and sugar for about 5 minutes.
Add 4 cups of flour and salt. Mix together.
Slowly add flour until you have a nice soft dough.
Knead for 5 minutes.
Spread onto a peal or other pizza dish, cover and let rise for 1 hour.
Baking time will vary depending on thickness, but plan on 15-20 minutes in a 400 oven.
Recipe by
Simple Life Mom
at https://simplelifemom.com/2013/10/17/whole-wheat-pizza-crust-and-bread-sticks/