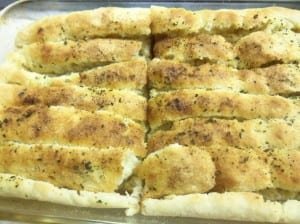 Author: Kelly - Simple Life Mom
1 ½ cup warm water
1 Tbsp yeast
2 Tbsp olive oil
3 ½ cup unbleached white flour
1 tsp salt
Garlic powder, oregano, and grated Parmesan cheese for sprinkling on top
Dissolve yeast in warm water.
Add oil, flour and salt. Knead for 5 minutes.
Place dough in a greased 9x12in. glass dish.
Spread with fingers until flat.
Cut into 10 breadsticks (2 rows of 5) with a knife or pizza cutter.
Sprinkle with garlic powder, cheese, and oregano.
Cover and let rise for 30-45 minutes.
Bake at 375 F for 25-30 minutes.
Recipe by
Simple Life Mom
at https://simplelifemom.com/2013/10/17/whole-wheat-pizza-crust-and-bread-sticks/