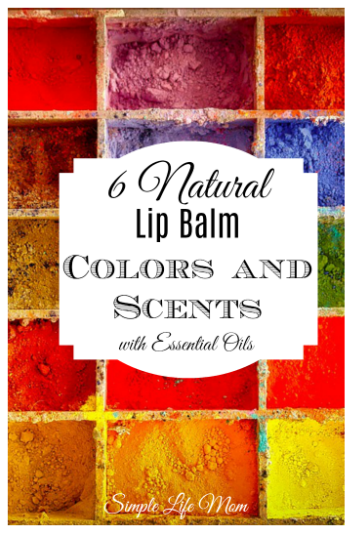 6 Natural Lip Balm Colors and Scents - Basic Lip Balm Recipe
Author: Kelly - Simple Life Mom
Prep time: 20 mins
Total time: 20 mins
Create a double boiler by placing a glass bowl or glass measuring jar in a saucepan of boiling water.
Add the beeswax, cocoa butter, shea butter, and sweet almond oil to the double boiler and stir on and off over low heat until everything is melted.
Add natural colorants while on low heat and stir until combined.
Remove from heat and add essential oils if desired.
Pour into pots or tubes to cool.
***TIP*** When filling lip balm tubes, fill until they almost overflow. The lip balm will shrink as it cools and can leave a hole down the middle. But it's just cosmetic, so don't stress if that happens. It's hard to get them full enough without them overflowing.
Recipe by
Simple Life Mom
at https://simplelifemom.com/2017/11/12/natural-lip-balm-colors-and-scents/