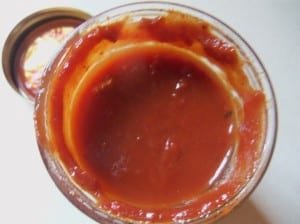 Homemade BBQ Sauce Recipe
Author: Kelly - Simple Life Mom
Prep time: 5 mins
Cook time: 30 mins
Total time: 35 mins
1-1/2 cups homemade ketchup (or organic ketchup)
1 cup water
¼ cup apple cider vinegar
3 T olive oil
2 T mustard
¼ cup brown sugar (2T Honey)
3 T molasses
2 T paprika
½ tsp cayenne pepper
½ T black pepper
2 cloves minced garlic (or 2 T garlic powder)
2 T onion powder
1 T lemon juice
dash salt
Mix all ingredients in a saucepan on medium heat, stirring constantly, until it begins to boil.
Simmer for 30 minutes.
Stir occasionally to make sure bottom does not burn.
Process in jars so that they are sealed. Or pour into jars and refrigerate or freeze, leaving a 1in gap at the top.
Recipe by
Simple Life Mom
at https://simplelifemom.com/2013/12/16/homemade-bbq-sauce-recipe/