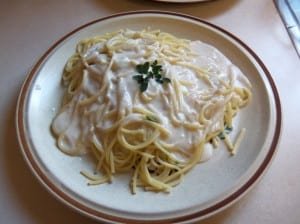 Author: Kelly - Simple Life Mom
Prep time: 10 mins
Cook time: 20 mins
Total time: 30 mins
2 Tbsp butter
½ cup flour
2 large garlic cloves, minced
4 cups milk (whole gives a richer flavor, but you can use skim)
2 oz cream cheese
4 oz mozzarella cheese, grated
½ cup Parmesan cheese, grated
1 tsp salt
¼ tsp pepper
1 tsp dried basil
2 tsp dried oregano
Place butter and garlic in a medium sized sauce pan and heat over medium low heat until the butter is melted and the garlic releases its scent.
Add flour and stir. It may be dry, but that's ok. Brown the flour slightly.
Whisk in milk.
Add cream cheese, mozzarella cheese, Parmesan cheese, and salt, stirring until all is melted.
Add basil and oregano.
Cook until thickened. If it is not thickening, you can cook it a little longer, add more cheese, or cream cheese. Sometimes if you have it very hot it will seem thinner, but thicken quickly as it starts to cool.
Optional: Add baby spinach to the sauce right before serving.
Recipe by
Simple Life Mom
at https://simplelifemom.com/2012/09/16/fettuccine-alfredo/