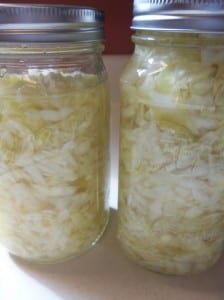 Author: Kelly - Simple Life Mom
Prep time: 20 mins
Total time: 20 mins
1 medium sized head of cabbage
3 tsp of salt
filtered water (or whey if you have it)
Chop or shred cabbage and sprinkle with salt.
Pound with a pestle or potato masher until cabbage is softened and begins to release its juices (usually about 10 minutes).
Place cabbage in a container with its juices.
Add water and/or whey (if needed) until cabbage is completely submerged. You will need to use a lid that is smaller than the top of the container so that you can weigh it down. You can also use a plate. It is very important that the cabbage does not touch the surface so that no yeast and bad bacteria will grow. I used a smaller lid weighted down by a glass container filled with water. Cover with a cloth or plastic wrap with a few holes poked in it to release fermenting gasses.
Let ferment on your counter top (during winter) or a room around 70F for 5 days (More if desired. Some let it ferment for 4 weeks or more).
I then move my sauerkraut and liquid into jars, seal, and put in the refrigerator or basement. Use within 4-6 weeks.
Recipe by
Simple Life Mom
at https://simplelifemom.com/2014/03/05/homemade-sauerkraut/