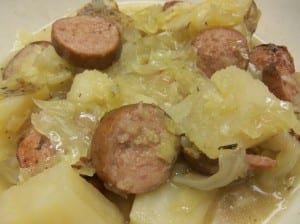 Crockpot Sauerkraut and Kielbasa
Author: Kelly - Simple Life Mom
Prep time: 10 mins
Cook time: 4 hours
Total time: 4 hours 10 mins
A wonderful Polish dish of sauerkraut and kielbasa, full of wonderful probiotics.
2 Tbsp butter
1 Onion, diced
1-2 Garlic cloves, crushed and diced
1 lb Kielbasa (or favorite sausage), sliced
1 Quart Homemade Sauerkraut and it's juices
3 Potatoes, cubed
Salt and Pepper to taste
1 tsp Thyme
½ - 1 tsp Sage
Cook onion and garlic in a medium-sized skillet until onions are translucent and kielbasa is browned.
Place in slow cooker along with all the other ingredients. Add more water if liquid from sauerkraut is not enough.
Mix and let cook on low for 4 hours.
Serve alone or over mashed potatoes.
Recipe by
Simple Life Mom
at https://simplelifemom.com/2014/03/06/crockpot-sauerkraut-and-kielbasa/