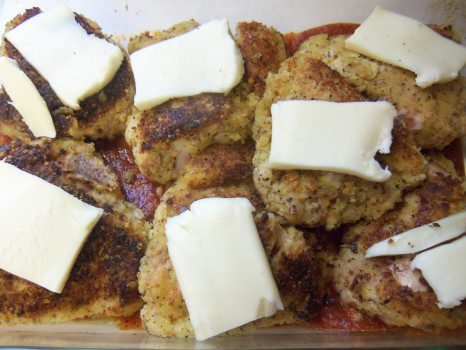 Author: Kelly - Simple Life Mom
Prep time: 25 mins
Cook time: 30 mins
Total time: 55 mins
5 chicken thighs
¼ cup olive oil
1 egg
1 Tbs water
½ cup flour (wheat, rice, corn, etc)
1 cup bread crumbs (corn bread or other gluten free bread works fine)
¼ cup shredded Parmesan cheese
1 Tbs Oregano
1 tsp basil
½ tsp salt
¼ tsp pepper
4 oz. Mozzarella cheese
4 cups Homemade Marinara Sauce
Prepare bowls. In first bowl, add flour. Whisk egg and water together in second bowl. In third bowl combine bread crumbs, Parmesan cheese, oregano, basil, salt, and pepper.
Prepare Skillet. Heat olive oil to medium heat in large skillet.
Prepare Chicken. Dip chicken thigh in flour, shake off excess. Dip floured chicken in egg, then roll in bread crumb mixture. Place in skillet. Repeat with the rest of the chicken, watching the chicken on the skillet to make sure it doesn't burn. Brown one side and turn.
Once second side is brown, turn heat to low and place sliced mozzarella cheese on top of each chicken slice. Pour marinara sauce over chicken and place lid on skillet. Simmer on low for 20 minutes, or until chicken is fully cooked (juices run clear).
Recipe by
Simple Life Mom
at https://simplelifemom.com/2014/03/17/chicken-parmesan/