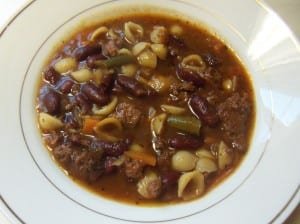 Author: Kelly - Simple Life Mom
Prep time: 15 mins
Cook time: 30 mins
Total time: 45 mins
1 large Onion, diced
2 Garlic Cloves, minced
1 lb Ground Beef or Sausage
Salt and Pepper to taste
1 gallon Homemade Beef Bone Broth
15 oz (1 can) Tomato Puree
3-4 cups cooked Kidney Beans
2 Large Carrots, julienned
1 cup Green Beans, cut bite size
½ lb Shell Pasta
1 Tbsp Oregano
Saute onion, garlic, and ground beef in a skillet on medium heat.
Add Salt and Pepper to taste.
Add Homemade Beef Bone Broth, Kidney Beans, Oregano, Tomato Puree, Carrots, and meat mixture into a large soup pot.
Simmer on med-low for 30 min. to 1 hour.
Add Green Beans and Pasta. Cook until pasta is tender.
This soup is great on its own, but you can also enjoy Pasta e Fagioli with a simple salad, sourdough, or garlic bread.
Recipe by
Simple Life Mom
at https://simplelifemom.com/2014/04/21/pasta-e-fagioli/