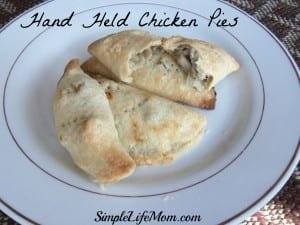 Author: Kelly - Simple Life Mom
Prep time: 1 hour 30 mins
Cook time: 25 mins
Total time: 1 hour 55 mins
Make them small and they are amazing hand held appetizers! Make them larger pies and they make a great supper.
Filling
6 boneless chicken thighs (or 3 breasts, depending on preference)
2 Tbsp olive oil
1 onion, chopped
2 large garlic cloves, minced
1 tsp salt
1 tsp pepper
2 tsp dried marjoram
1 Tbsp dried tarragon
3 potatoes, diced (very small)
½ cup celery, diced
4 cups organic or homemade chicken broth
1-1/2 cups milk
⅔ cup flour
Crust
4 cups flour (I used unbleached white)
2 tsp salt
3 Tbsp sugar
2 sticks cold butter (1/2 lb), cut into thin slices
¾ cup coconut oil, softened
½ cup water
1 egg, plus 1 Tbsp water for egg wash
In a large pot, cook chicken thighs on med-low with olive oil, onions, garlic, salt, and pepper until onions are tender.
Add potatoes, marjoram, tarragon, and chicken broth.
Remove chicken and dice while potatoes are cooking.
Combine flour and milk with a whisk and add to pot.
Stir on low until thickened and potatoes and chicken are cooked through.
Remove from heat and cool. It doesn't have to get cold, but it helps if it is not hot.
For Pastry:
Combine 4 cups flour, salt, and sugar.
Cut in butter and coconut oil until pastry in crumbly in texture. Coconut oil should not be hot, but can be softened.
Slowly add water until dough begins to stick together when pinched.
Form dough into two balls; touching and working with it as little as possible. Flatten both balls, wrap individually in plastic wrap, and put in fridge while filling cools.
To Combine: Keep dough in fridge until ready to roll out. Roll out dough until ⅛ inch thick. I used a 6" glass bowl to cut circles (see below).
Place a little filling on each circle, fold dough over, and pinch. Poke with a fork a few times to release steam while cooking.
Place on ungreased cookie sheet. Repeat.
Brush with egg wash.
Bake at 400 degrees F for 25-30 minutes, or until they begin to brown.
Recipe by
Simple Life Mom
at https://simplelifemom.com/2014/05/21/hand-held-chicken-pies/