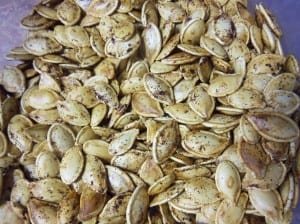 Author: Kelly - Simple Life Mom
Prep time: 15 mins
Cook time: 35 mins
Total time: 50 mins
Pumpkin Seeds
Salt
Paprika (optional)
Cumin (optional)
Scrape the seeds out of your pumpkin and sort the seeds into a bowl, trying to get the least amount of pulp in your bowl as possible.
Place your seeds in a colander and rinse with hot water (I like to use hot water because it seems to rinse them better). As you rinse, pick out the final pieces of pulp (If there's a tiny bit here or there it's ok, but you shouldn't have a problem getting almost all of it out)
Spray/rub oil onto a cookie sheet and spread seeds out until they are only 1 or 2 seeds thick
Sprinkle salt over the seeds to taste.
Add other herb or spice of choice. I like to add paprika and a small amount of cumin.
Place in a 350 degree F oven for 20 minutes (watch and stir) and turn the oven off. They will continue to dry out and crisp in the hot oven for some time.
Check every 15 minutes until they are no longer chewy, but nicely crunchy. Enjoy!
Recipe by
Simple Life Mom
at https://simplelifemom.com/2012/10/09/roasted-pumpkin-seeds/