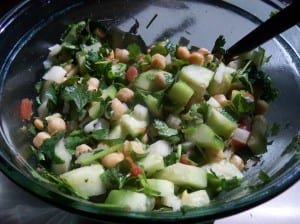 Author: Kelly - Simple Life Mom
Prep time: 15 mins
Total time: 15 mins
2 large cucumbers, diced (peeled or unpeeled, your choice)
1 cup chopped cilantro
½ cup tomatoes, diced
1 small onion, diced
2 cups chick peas (If using canned, rinse well)
½ tsp cumin
1-1/2 Tbsp lemon juice
salt to taste
I like to use a potato peeler to peel stripes into the cucumber. Then slice into small pieces.
Rinse and chop cilantro. This will help bring out the cilantro flavor.
Dice one small tomato and add to cucumber bowl.
Add diced onion, chick peas, cumin, and lemon juice.
Salt to taste.
Keep chilled.
It's that easy
For alternative, add red pepper and/or 1 cup of cooked couscous or quinoa.
Recipe by
Simple Life Mom
at https://simplelifemom.com/2014/04/14/cucumber-cilantro-salad/