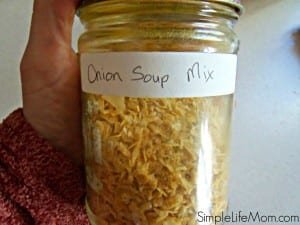 Author: Kelly - Simple Life Mom
Onion Soup Mix is great in Dips, over meat and potatoes, rice, and more.
1-1/2 Tbsp onion powder
1-1/2 cups dried, minced onion
2 Tbsp dried parsley flakes
1-1/2 Tbsp turmeric
2 tsp celery salt
2 tsp sea salt
1 tsp pepper
Add all ingredients into a mason jar with lid.
Close jar tightly and shake until ingredients are mixed well.
Shake before each use.
¼ cup is equivalent to 1 packet of onion soup mix.
Recipe by
Simple Life Mom
at https://simplelifemom.com/2014/06/02/onion-soup-mix-and-dip/