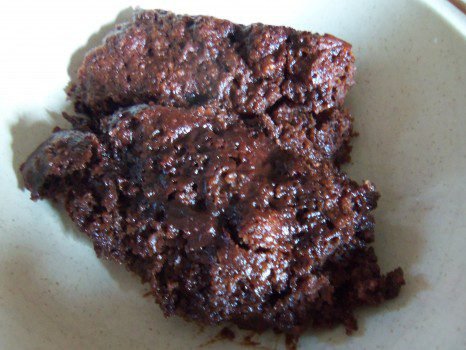 Author: Kelly - Simple Life Mom
Prep time: 10 mins
Cook time: 25 mins
Total time: 35 mins
Water: 2 cups boiling water.
Dry Pudding Mixture:
⅔ cup sugar
⅔ cup brown sugar
⅔ cup cocoa
Wet Cake Mixture:
1-1/2 cups flour
½ cup cocoa
½ t. salt
4 t. baking powder
2 eggs
½ cup butter melted
⅔ cup sugar*
⅔ cup milk
2 t. vanilla extract
Heat the water and set aside.
Combine the sugar, brown sugar, and cocoa for the pudding mixture and set aside.
Mix the flour, cocoa, salt, baking powder together in a bowl.
Combine eggs, sugar, butter, milk, and vanilla extract in a separate bowl and then combine with flour mixture.
Spread cake mixture into the bottom of a greased 9in x 12in or similar sized pan.
Sprinkle dry pudding mixture on top.
Pour water gently over the top.
Bake at 350 degrees Fahrenheit for 25 minutes or until the cake puffs and begins to pull away from the sides.
Recipe by
Simple Life Mom
at https://simplelifemom.com/2012/10/23/chocolate-pudding-cake/