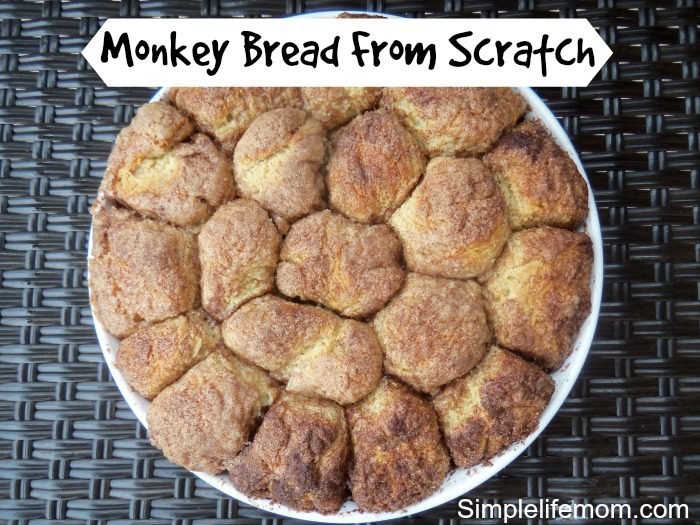 Monkey Bread From Scratch
Author: Kelly - Simple Life Mom
Prep time: 15 mins
Cook time: 20 mins
Total time: 35 mins
2¼ tsp yeast
1 cup warm water
¼ cup sugar
2 tsp olive oil or melted coconut oil
½ cup whole wheat flour
1 egg
½ Tbsp salt
3-4 cups unbleached white flour
For the Outside
½ cup melted butter
½ cup sugar
2 Tbsp cinnamon
Combine yeast, warm water, sugar, oil, and whole wheat flour in a large bowl.
Let set until it begins to bubble (5-10 minutes).
Whisk in egg.
Combine salt and flour and add to yeast mixture. Add enough flour so that you can handle the dough.
Knead until smooth.
Tear off chunks (about golf ball size) and roll them into a ball.
Roll dough balls in butter, then in cinnamon and sugar mixture.
Add to a greased shallow dish, or a bunt pan (really, anything works).
Let rise for 30 minutes.
Bake at 350 degrees F for 20 minutes.
** You can leave the egg out. We have egg allergies and have done that and it has worked great.
** You can put it in the oven without letting it rise. They still turn out great. Not quite as airy, but still wonderful.
Recipe by
Simple Life Mom
at https://simplelifemom.com/2014/06/18/monkey-bread-from-scratch/