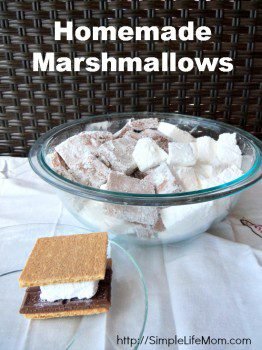 Author: Kelly - Simple Life Mom
Prep time: 30 mins
Cook time: 10 mins
Total time: 40 mins
Homemade Marshmallows with sugar (instead of corn syrup) and gelatin are a healthy alternative to store bought marshmallows.
1 cup cold water
4 Tbsp gelatin
4 cups unbleached cane sugar
1 cup cold water
½ tsp salt
4 tsp homemade vanilla extract
Dust a 9in x 12in pan with confectioner's sugar
In a small bowl, combine gelatin and 1 cup cold water. Set aside.
I a saucepan, combine sugar and 1 cup water.
Cook and stir over medium heat until all of the sugar is dissolved.
Add gelatin and bring to a boil.
When mixture begins to boil, turn off the burner and remove from heat.
Pour into a large bowl and let cool.
Add salt and vanilla extract.
Mix with a hand mixer or stick mixer until mixture becomes frothy like beaten egg whites (usually around 10 minutes).
Scrape into dusted dish and dust with additional confectioner's sugar.
Cover and place in the refrigerator until it's no longer sticky.
When ready, slice into size of your choice.
Also: Just mix a little and eat right away. Marshmallow Cream!!!! (It's crazy good)
Recipe by
Simple Life Mom
at https://simplelifemom.com/2014/06/30/homemade-marshmallows/