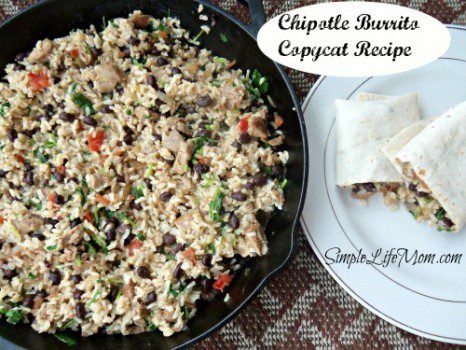 Chipotle Burrito Copycat Recipe
Author: Kelly - Simple Life Mom
Prep time: 10 mins
Cook time: 30 mins
Total time: 40 mins
A light and tasty burrito recipe with rice, black beans, chicken, and cilantro.
2 cups brown rice
4 cups water
1 Tbsp lemon juice
2 cups (or 16oz) black beans
1-2 tomatos, diced
2 cups cilantro, chopped
3 chicken thighs
Homemade Taco Seasoning
Tortillas
8oz shredded cheddar cheese
salsa (optional)
lettuce (optional)
Combine rice and water and lemon juice in a saucepan or large skillet with lid.
Bring to a boil uncovered.
Cover with a lid and turn burner down to a simmer for 15-20 minutes, or until rice is done.
Meanwhile, cook chicken thighs in a skillet on medium heat, adding taco seasoning to taste.
Remove chicken from heat and dice.
Add cooked rice, diced tomatoes, chopped cilantro,and black beans.
Add a large spoonful of rice mixture to a tortilla, sprinkle with cheese, salsa, and lettuce (if desired), wrap up, and enjoy!
Recipe by
Simple Life Mom
at https://simplelifemom.com/2014/07/14/chipotle-burrito-copycat-recipe/