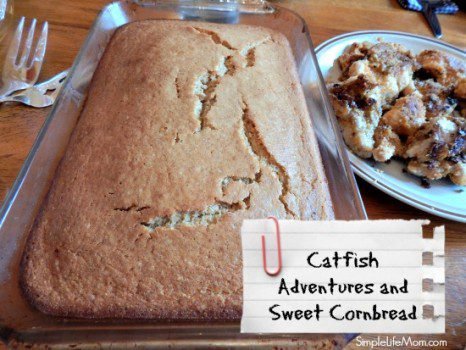 Author: Kelly - Simple Life Mom
Prep time: 5 mins
Cook time: 25 mins
Total time: 30 mins
A sweet and fluffy cornbread.
⅔ cup butter (softened)
⅔ cup sugar
3 eggs
1-2/3 cup milk
2 cups unbleached white flour
1½ cup corn flour
4½ tsp baking powder
1 tsp salt
Cream butter and sugar in a large mixing bowl.
Add remaining ingredients and stir until combined.
Pour into a greased 13in x 9in baking dish.
Bake at 400 Degrees F for 25 minutes, or until fork inserted comes out clean.
Recipe by
Simple Life Mom
at https://simplelifemom.com/2014/07/21/catfish-adventures-sweet-cornbread-2/