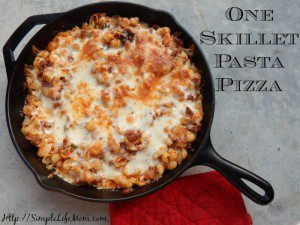 Author: Kelly - Simple Life Mom
Prep time: 5 mins
Cook time: 25 mins
Total time: 30 mins
1 lb Ground Beef or sausage
1 onion, chopped
1 green pepper
1 clove garlic, crushed
2 cups homemade pizza sauce
2 Tbsp Parmesan cheese
8-16oz pasta of choice (elbow, shells, etc.), cooked
1 cup shredded mozzarella
brown the beef and onions in a cast iron skillet or other skillet that can be put in the oven
Add green pepper and garlic when the meat is fully cooked.
Add pizza sauce (find recipe link above), Parmesan cheese, and pasta.
Stir until all ingredients are incorporated.
Sprinkle Mozzarella on top.
Bake at 375 degrees F for 10 minutes, or until cheese begins to brown.
Recipe by
Simple Life Mom
at https://simplelifemom.com/2014/09/17/one-skillet-pasta-pizza/