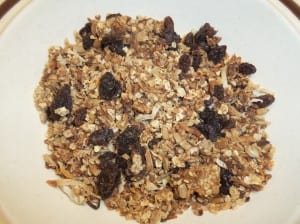 Author: Kelly - Simple Life Mom
Prep time: 15 mins
Cook time: 20 mins
Total time: 35 mins
4 cups oats
1 cup coconut flakes (high quality, not sugared)
1 cup sunflower seeds
2 cups puffed rice (find some with good ingredients)
½ wheat germ
½ cup honey
½ cup coconut oil (or olive oil)
½ cup water
1 Tbsp cinnamon
1 cup raisins
Mix all the dry ingredients in a large bowl.
Heat honey, coconut oil, water, cinnamon and raisins in a saucepan over medium heat until honey is melted.
Pour over dry ingredients and mix well.
Spread over cookie sheets or glass dishes. If you put it in glass dishes it will be thicker and you will have to stir more often.
Place in a preheated over of 350 degrees F for 20 min, stirring after 10 minutes. If not golden brown,then continue to bake, checking every 5 minutes.
Recipe by
Simple Life Mom
at https://simplelifemom.com/2012/09/01/homemade-granola/