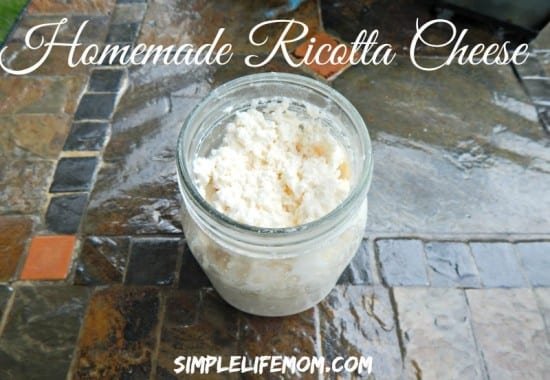 How to Make Homemade Ricotta Cheese
Author: Kelly - Simple Life Mom
Cook time: 30 mins
Total time: 30 mins
A versatile recipe for making a creamy traditional ricotta cheese, with modern convenience options.
1 gallon of whey (If you do not have whey, use 1 gallon of milk total, add yogurt if desired)
½ gallon of milk
**Optional: 1 cup plain yogurt (or heavy cream)**
4 Tbsp lemon juice (or distilled white vinegar)
1 tsp salt
Combine whey, milk, yogurt and lemon juice in a large pot over medium heat. If you are not using whey, combine 1 gallon milk, yogurt, and lemon juice.
Heat on medium to low heat, watching carefully, until milk just starts to simmer. Remove from heat and let sit for 15 minutes. Do not let it boil or it could boil over, making a giant mess.
Meanwhile, place cheese cloth (or clean cotton t-shirt) over a bowl.
Curds should have developed. Pour mixture through the cheese cloth and squeeze cloth to remove excess whey.
Add salt to curds.
Pour whey back into pot and heat again just until it starts to boil. Remove and wait. You should get more curds from the leftover whey. Add it to your mixture and strain.
Recipe by
Simple Life Mom
at https://simplelifemom.com/2014/10/13/how-to-make-homemade-ricotta-cheese/