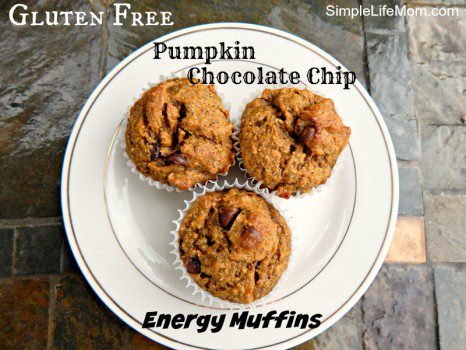 Gluten Free Energy Muffins and Giveaway
Author: Kelly - Simple Life Mom
Prep time: 10 mins
Cook time: 20 mins
Total time: 30 mins
A gluten free Pumpkin Chocolate Chip muffin recipe that is light and fluffy and full of great protein from chia seeds.
½ cup peanut butter (or sun butter)
1½ cups pureed pumpkiin
2 eggs
2 tsp vanilla extract
½ cup raw honey
4 Tbsp chia seeds
4 tsp pumpkin spice
1 tsp baking soda
1 cup blended oats
½ cup chocolate chips (minis or regular)
Preheat oven to 375 degrees F. and line muffin tin with muffin liners.
Combine peanut butter, pumpkin, eggs, vanilla extract and honey.
Blend oats in blender until it is flour consistency.
In a separate bowl combine oats, chia seeds, pumpkin spice, baking soda and chocolate chips.
Stir in dry ingredients into your wet ingredients.
Fill muffin cups ¾ full.
Bake for 20 minutes, or until fork inserted comes out clean.
Recipe by
Simple Life Mom
at https://simplelifemom.com/2014/10/27/gluten-free-energy-muffins-and-giveaway/