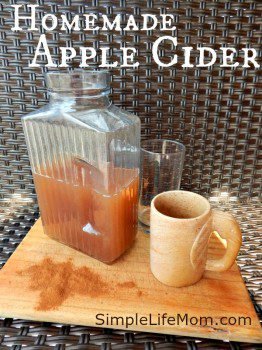 Homemade Apple Cider Recipe
Author: Kelly - Simple Life Mom
Cook time: 4 hours
Total time: 4 hours
40 Apples, quartered
1 gallon filtered water
4 cinnamon sticks (or 1 tsp cinnamon)
¼ tsp cloves
¼ tsp nutmeg
¼ tsp ginger
¾ cup honey (or unbleached cane sugar) - *Optional
1 orange, sliced - *Optional
Quarter the apples (leave skins and seeds on), and place in a slow cooker or large stock pot.
Add water. If the water does not cover the apples, add more until it does (push the apples down)..
Add remaining ingredients.
If you are making this in a slow cooker, let it simmer for 8-10 hours.
If you are making this in a stock pot, bring water to a simmer, reduce heat to low, cover and let set for 2 hours (watch that you have enough water, and stir occasionally)
After two hours in stock pot or 4-6 hours in the slow cooker, use a potato masher to mash apples within the pot or slow cooker and let it simmer for another 30 min to an hour.
Strain through a fine mesh strainer (I strain twice). Or if you would rather less pulp, strain through a cheese cloth without squeezing (this may take some time). Even less pulp? Strain through a coffee filter.
Store in a gallon jug in the refrigerator, or can the juice in jars.
Recipe by
Simple Life Mom
at https://simplelifemom.com/2014/11/24/homemade-apple-cider-recipe/