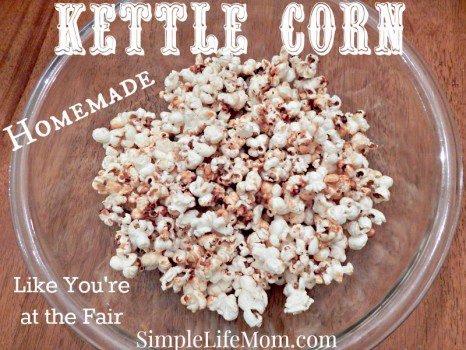 Author: Kelly - Simple Life Mom
Cook time: 5 mins
Total time: 5 mins
¼ cup coconut oil
½ cup popcorn kernels
¼ cup sugar (you can use brown sugar if you want)
¾ tsp salt
Add oil to a large pot (one that has a lid), and heat over medium heat (not high).
Add 2-3 kernels to the oil and wait for them to pop.
Once those kernels pop, add the rest of the popcorn.
Sprinkle the sugar over the kernels before they start popping everywhere and stir with a spoon.
Cover the pot and shake back and forth as it sits on the burner.
When the popping starts to die down, remove the pot from the burner and pour the popped corn into a large bowl immediately. Don't wait or you will risk burning the popped corn on the bottom as it sticks to the sugar.
Toss with salt and enjoy!
Recipe by
Simple Life Mom
at https://simplelifemom.com/2014/11/26/homemade-kettle-corn-2/