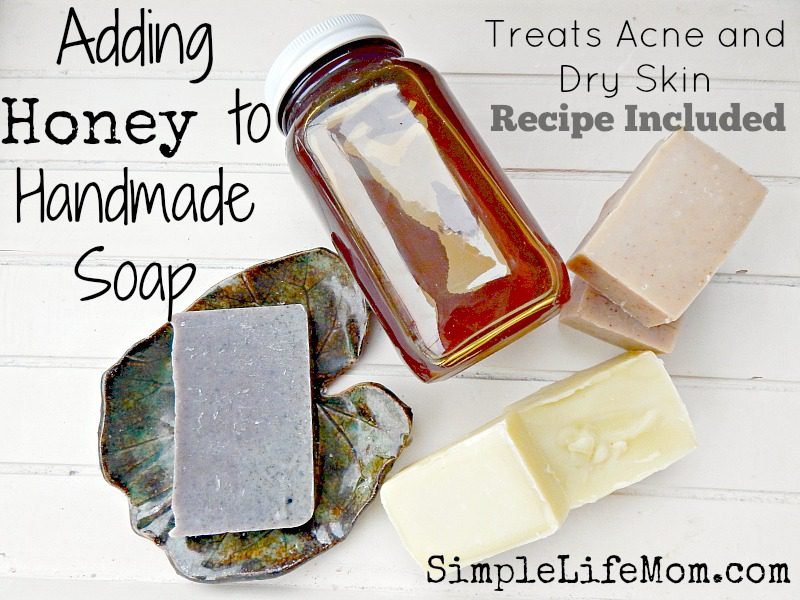 Author: Kelly - Simple Life Mom
Prep time: 2 hours
Cook time: 24 hours
Total time: 26 hours
15 oz olive oil
10 oz coconut oil
10 oz tallow
5 oz shea butter
2 oz castor oil
3 Tbsp raw honey
16 oz water (remove 2 oz to mix with honey)
5.8 oz lye
1-1/2 to 2 oz essential oils of choice (citrus scents go well with honey, as well as cinnamon leaf)
Combine olive oil, coconut oil, tallow, shea, and castor oil in large pot and heat until all is melted. Turn off the burner and cool to 100 degrees F.
Combine 4 Tbsp raw honey and 2 ounces of water until combined.
Add lye slowly to the water (never water to lye) outside - even in the winter. Never combine in your house! Do not breathe fumes! Cool to 100 degrees F.
Add lye water to oils and mix with a hand or stick mixer until it begins to thicken (on 5min. off 5 -10 min.).
Add Raw Honey and essential oils and mix. Watch carefully.  It may go to trace quickly.
Pour into mold and incubate for at least 24 hours.
Recipe by
Simple Life Mom
at https://simplelifemom.com/2015/01/26/adding-honey-to-handmade-soap-recipe/