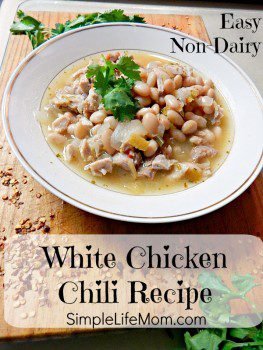 Easy Non Dairy White Chicken Chili Recipe
Author: Kelly - Simple Life Mom
Prep time: 10 mins
Cook time: 20 mins
Total time: 30 mins
A great weeknight meal that's quick and easy, healthy and delicious.
1 lb chicken (white or dark meat)
1 onion, chopped
2 cloves garlic, minced
2 Anaheim peppers, cored and chopped (or 1 can green chilies)
1 tsp cumin
1 Tbsp chili powder
1 tsp salt
1 Tbsp coconut oil
6-1/2 cups organic chicken broth
3 cans (15oz each) white northern or cannellini beans
½ lime
fresh cilantro
Combine chicken, onion, garlic, peppers, cumin, chili powder, salt, and coconut oil is a soup pot and simmer on medium heat until chicken is cooked (but still very moist) and onion is tender. If you choose to use canned chilies, then add them with the broth instead.
Add broth, beans, and squeeze the juice from half a lime and simmer for 20 minutes.
Chop cilantro and have available to add at the table.
Option #1: Simmer leftover chicken bones and juices in water and spices to create broth.
Option #2: For a quick alternative, use a jar of Salsa Verde with lime instead of adding the green chilies, onion, garlic, and lime. You may be able to cut down on adding extra spices as well.
Recipe by
Simple Life Mom
at https://simplelifemom.com/2015/02/06/easy-non-dairy-white-chicken-chili-recipe/