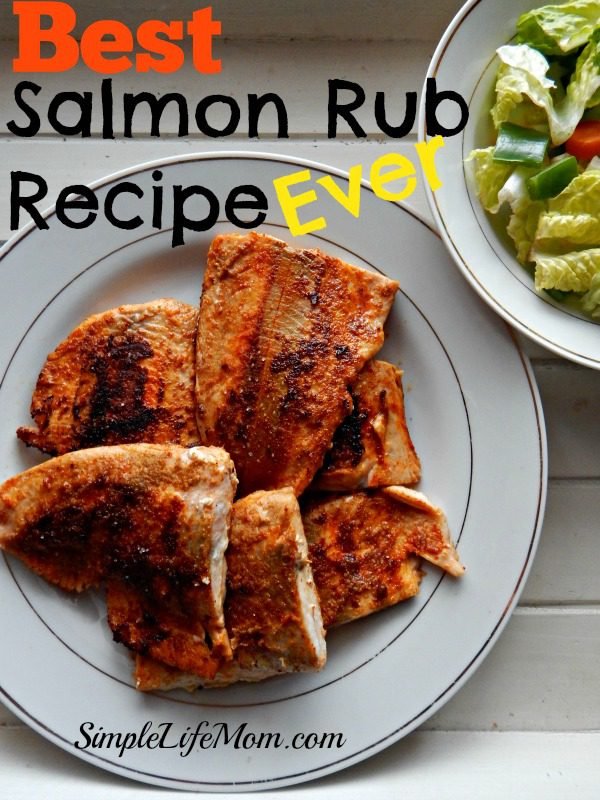 Best Salmon Rub Recipe Ever
Author: Kelly - Simple Life Mom
Prep time: 5 mins
Cook time: 10 mins
Total time: 15 mins
An amazing rub that brings out the flavors of the juicy salmon, while giving it a nice outside crust.
1 Tbsp Cumin
2 Tbsp Paprika
¼ cup Chili Powder
1 tsp salt
1 tsp pepper
1 Tbsp garlic powder
When Cooking:
2-4 Tbsp coconut oil
juice from one whole lemon
Combine all ingredients and store in airtight jar.
To Make:
Rub onto both sides of thawed or fresh salmon.
Heat large skillet over medium heat and add 2-4 Tbsp coconut oil.
After oil is melted and skillet is hot, gently lay salmon flat.
Grill 3-5 minutes each side (depending on thickness). You will see that it is no longer bright pink, but a more opaque whitish pink. Do not over cook.
Serve immediately, bringing extra lemon juice to the table (we like the added zing from the lemon).
Recipe by
Simple Life Mom
at https://simplelifemom.com/2015/02/20/best-salmon-rub-recipe-ever/