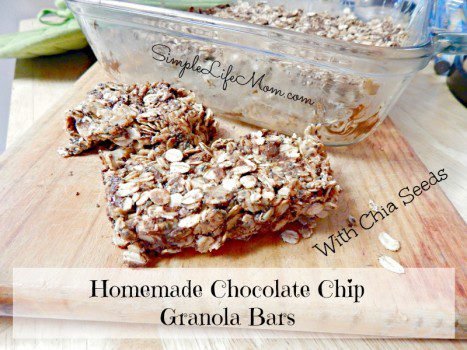 Homemade Chocolate Chip Granola Bars with Chia Seeds
Author: Kelly - Simple Life Mom
Prep time: 10 mins
Total time: 10 mins
A quick and easy snack packed with protein and real food ingredients (with some extra chocolate chips of course)!
2 cups rolled or cut oats
1 cup real peanut butter (no added sugar)
⅓ cup honey
¼ cup coconut oil (melted)
1-1/2 Tbsp chia seeds
Optional - One of the Following:
½ cup chocolate chips
½ cup dried cranberries
½ cup raisins
½ cup sunflower seeds
Combine ingredients. If your house is very cool you may want to consider placing honey and peanut butter in a saucepan to slightly melt, but this is not required.
Make sure your ingredients are wet enough, but not too wet. You want it to be wet enough to stick together, but not fall apart. Too crumbly from the start will result in very crumbly bars. Too wet will result in goopy bars. Adjust with extra peanut butter or oats as needed.
Press hard with your fingers or the back of a spoon into a 8in x 8in dish that has been greased with coconut oil.
Enjoy!
Recipe by
Simple Life Mom
at https://simplelifemom.com/2015/03/08/homemade-chocolate-chip-granola-bars-with-chia-seeds/