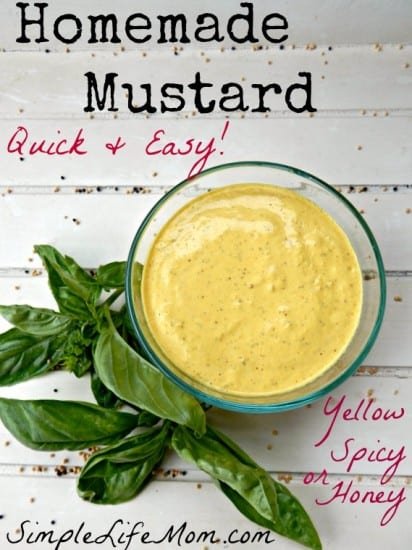 Author: Kelly - Simple Life Mom
Prep time: 2 hours
Total time: 2 hours
½ cup brown mustard seeds
½ cup yellow mustard powder
½ cup water
½ cup white wine vinegar
1-1/2 tsp salt
1 tsp ground turmeric
Soak mustard seeds for at least 2 hours, or over night. This will give you a finer texture. This will also mellow the seeds out slightly, so feel free to add some black mustard seeds.
Drain mustard seeds and then grind in a coffee grinder, food processor, mortar and pestle, or throw it all in the blender (my favorite method).
Blend brown and yellow mustard and water. Let sit for 10 minutes to allow flavors to emerge from seeds.
Add vinegar, salt, and turmeric and blend until smooth.
This keeps indefinitely.
Enjoy!
Recipe by
Simple Life Mom
at https://simplelifemom.com/2015/06/28/homemade-mustard-recipe/