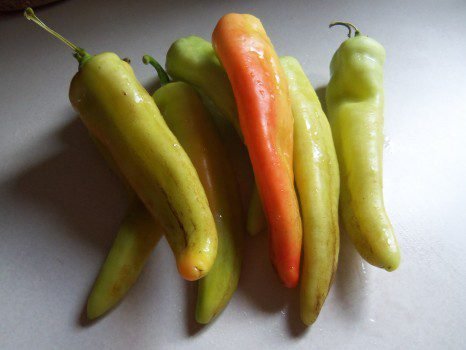 Author: Kelly - Simple Life Mom
Prep time: 15 mins
Cook time: 20 mins
Total time: 35 mins
1 lb ground beef
½ cup Parmesan or Romano cheese
½ cup shredded mozzarella cheese
½ cup bread crumbs
1-2 garlic cloves, depending on taste (or 1 tsp garlic powder if you don't have fresh)
1 Tbsp dried oregano
1 Tbsp dried basil
salt to taste
6-8 large banana peppers
Homemade Marinara sauce
Mix everything but the peppers and marinara sauce in a large bowl. I put a couple of slices of homemade bread into a food processor to make the bread crumbs.
Cut off the tops of the banana peppers, cut out seeds (you should be able to pull them out in one big chunk), and gently push mixture into the peppers.
I like to brown them in a skillet slightly before putting them into the oven. I think it brings out the flavor, but you can skip this part if you just want to throw them into the oven.
Place them in a glass dish, pour 1-2 cups of marinara sauce over them, grate some more mozzarella on top, and cover with foil. Put in a 375F degree oven for 20-30 minutes.
Recipe by
Simple Life Mom
at https://simplelifemom.com/2012/09/02/stuffed-banana-peppers/