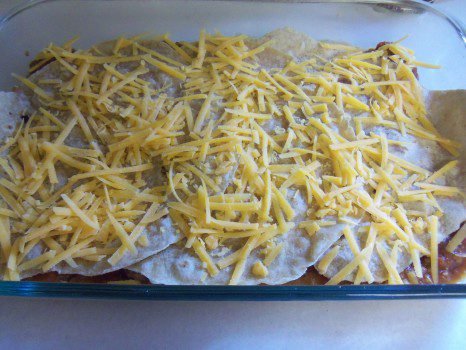 Author: Kelly - Simple Life Mom
Prep time: 15 mins
Cook time: 15 mins
Total time: 30 mins
1 lb ground beef
¼ cup homemade taco seasoning (see below)
1 large onion, chopped
32 oz (4 cups) diced tomatoes
24-32 oz (3-4 cups) refried beans
8 homemade tortillas
8 oz (1 cup) shredded cheddar cheese
Cook beef, onion, and taco seasoning in skillet over medium heat until meat is fully cooked.
Add tomatoes and beans.
Remove from heat and add half of mixture into a 9in x 14in casserole dish.
Place 4 tortillas over meat mixture and then sprinkle half of shredded cheese over the tortillas.
Repeat.
Bake in a 400 degree F oven for 10-15 minutes or until top begins to brown.
Recipe by
Simple Life Mom
at https://simplelifemom.com/2012/12/04/enchilada-casserole/