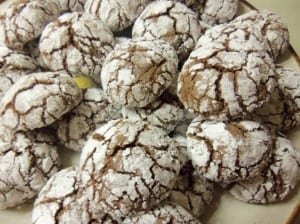 Ultimate Earthquake Cookies
Author: Kelly - Simple Life Mom
1¼ cup brown sugar*
½ cup butter, softened
1 tsp homemade vanilla extract
2 eggs
2 cups flour (I used half wheat, half white)
6 Tbsp cocoa
½ tsp salt
¼ tsp baking soda
⅔ cup chocolate chips
Roll In:
⅓ cup granulated sugar
½ cup confectioner's sugar
Combine first set of ingredients until a nice little ball forms.
Chill until stiff enough to mold into balls.
Shape into 1-2 inch balls. Roll in sugar and then in confectioner's sugar.
Place on a stainless steel cookie sheet about 2 inches apart.
Bake at 375 degrees F. for 10 minutes.
Remove to wire rack to cool so that they stop cooking and stay soft on the inside.
*I use half of the amount of brown sugar, because we do not eat sugar very often.
Recipe by
Simple Life Mom
at https://simplelifemom.com/2012/12/08/ultimate-earthquake-cookies/