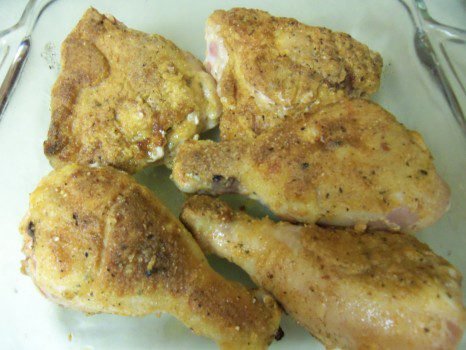 Oven Baked Fried Chicken and Roasted Potatoes
Author: Kelly - Simple Life Mom
Prep time: 1 hour
Cook time: 1 hour
Total time: 2 hours
olive or coconut oil (enough to coat bottom of skillet)
Let Sit:
6 pieces of chicken
1 cup milk
Flour Mixture:
Pour some milk over the chicken and let sit for 1 hour in the refrigerator (Some people like to add a bit of hot sauce at this stage).
Prepare flour by mixing 1 cup flour, as the oregano, paprika, garlic powder, salt and pepper.
Heat olive or coconut oil in a large skillet (enough to coat the bottom of the pan).
Coat chicken in flour and place in heated skillet.
When chicken is brown (but still not done), put in a glass container. Cover lightly.
Bake at 400 degrees F for an hour, or until when you stick a fork in a thick part of the chicken, the juices run clear.
Recipe by
Simple Life Mom
at https://simplelifemom.com/2012/12/09/oven-baked-fried-chicken-and-roasted-potatoes/