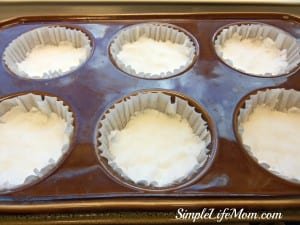 Shower Discs for Aromatherapy
Author: Kelly - Simple Life Mom
2 cups baking soda
1 cup water (add a little at a time)
15 drops essential oils of your choice (rosemary, eucalyptus and lavender combined is great)
Add water slowly to the baking soda until you have a thick paste.
Mix in essential oils.
Line muffin tins with paper muffin liners.
Pour mixture into each cup and let stand for 12 - 18 hours or overnight.
Remove when it is set and store in airtight container until needed. Essential oils will break down over time so you don't want to make these months in advance, though they will revive a bit within the shower.
To use: place one on the floor of your hot shower and inhale as you shower.
Recipe by
Simple Life Mom
at https://simplelifemom.com/2013/01/22/shower-discs-and-aromatherapy/