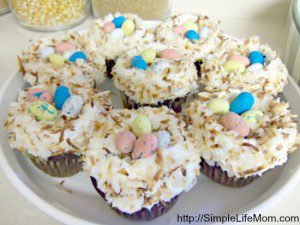 Easter Egg Nest Cupcakes - chocolate cupcake recipe
Author: Kelly - Simple Life Mom
Prep time: 15 mins
Cook time: 18 mins
Total time: 33 mins
3 sticks salted butter*
¾ cup chocolate chips
1 -1/2 cups cocoa powder
2 -1/4 cups flour
1-1/2 tsp baking soda
2-1/4 tsp baking powder
6 eggs
2 -1/4 cup granulated cane sugar
3 tsp homemade vanilla extract
1-1/2 cups yogurt or sour cream
Preheat oven to 350 degrees F.
Combine butter, chocolate chips, and cocoa in a double boiler over med-low heat and stir until melted. If you don't have a double boiler, put a glass bowl over a saucepan that has 2 in. of water boiling in it.
Stir until melted and remove from heat.
While your chocolate is cooling, combine flour, baking soda and baking powder in a bowl.
Stir in eggs, sugar, vanilla, and yogurt into chocolate mixture. Add flour mixture and stir until combined.
Place muffin cup liners in muffin pan and fill ¾ full.
Bake for 18 minutes or until fork inserted comes out clean. Remove from pan and allow to cool fully.
If you are using unsalted butter, add 1- ½ tsp salt.
Recipe by
Simple Life Mom
at https://simplelifemom.com/2013/03/13/easter-egg-nest-cupcakes/