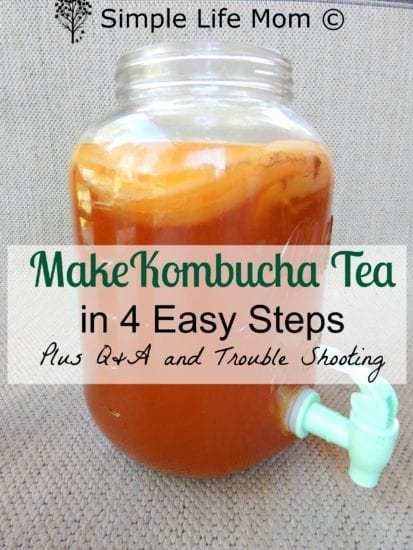 How to Make Kombucha - Easy Step by Step Instructions
Author: Kelly - Simple Life Mom
Kombucha is a very healthy fermented sweet tea.
1 Gallon Water, divided
8 Bags Organic Black Tea
1 Cup Non-Bleached Cane Sugar
2 cups Starter Tea or Apple Cider Vinegar
Boil around 10 cups of water (exact amount is not necessary at this point).
Add 8 tea bags and sugar and stir until dissolved and tea is strong. Allow to cool to room temperature (important).
Add room temperature sweet tea to 1 gallon jug with 2 cups starter kombucha and SCOBY.
Cover with a thin cloth so air can reach kombucha.
Allow to ferment for 7-30 days. Taste after 7 days and ferment to your liking (The longer, the more probiotics. But if no one can drink it because it's like vinegar, then it's not worth fermenting that long.)
Bottle, leaving 2 in head space so bottles don't build carbonation and break, and refrigerate. If you'd like to build more carbonation, leave sealed on counter top for 2-3 days before refrigerating.
Recipe by
Simple Life Mom
at https://simplelifemom.com/2017/04/30/how-to-make-kombucha-easy-step-by-step-instructions/