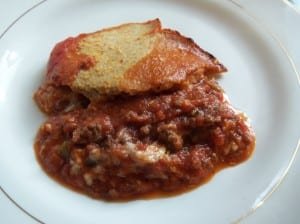 Author: Kelly - Simple Life Mom
Prep time: 20 mins
Cook time: 25 mins
Total time: 45 mins
Meat Sauce:
1 lb ground beef or sausage
1 medium onion, chopped
2 Tbsp flour
½ tsp. basil
½ tsp oregano
2 cloves garlic
1 small green pepper (or veggies of choice)
15 oz tomato sauce
Breading:
1 cup all purpose flour
2 eggs
1 cup milk
1 Tbsp olive oil
2 tsp salt
Topping
2 cups mozzarella
2 Tbsp grated Parmesan Cheese (optional)
Cook in a large skillet over medium heat: beef, onion, flour, basil, oregano, and garlic.
Add veggies and tomato sauce to the skillet and simmer.
Combine breading ingredients in a bowl a large bowl.
Pour meat sauce into a 9x13 baking dish.
Sprinkle Mozzarella cheese over meat sauce.
Slowly pour breading liquid over meat sauce and cheese. Try to completely cover it with the breading, but don't worry if you don't.
Sprinkle with Parmesan cheese.
Bake uncovered at 425 degrees F for 25-30 minutes or until browned.
Recipe by
Simple Life Mom
at https://simplelifemom.com/2013/09/25/upside-down-pizza/