This week I'm happy to share a Homestead Cooking With Carol Cookbook and Giveaway.
What? Two Giveaways in One Month?!!  I gladly pass them along to you as they come to me.  🙂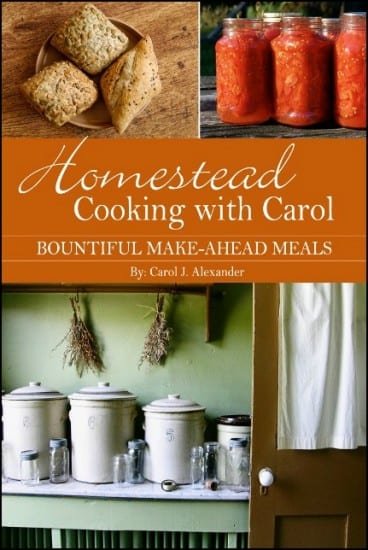 This is not just a cookbook full of yummy recipes.  Homestead Cooking with Carol is the kind of book that has a number of great ideas to help you get started in your journey toward making all your meals from home and from scratch.  I honestly wish I had this book 15 years ago when I was just getting started with my marriage and family.  Even though I have come a long way in learning how to plan ahead and find my groove of things homemade and healthy, Carol has some wonderful ideas and recipes that I was happy to learn.  Check it out!
She discusses things like:
To can or freeze (and how to can things like beans and potatoes)
How to divide up meat after butchering to be more "meal ready"
How to make complete meals in a jar
How to make healthy stock
How to make 18 meals out of one Ham
and much more…
Besides advice, tips, and tricks, Homestead Cooking with Carol also has many great recipes for families such as sloppy joes, meatballs, crock pot recipes, and apple pie filling.
The end of the book has examples for meal planning, how she plans out her monthly meals, and example pages of meal plans she has used in the past.
Homestead Cooking with Carol Cookbook Giveaway
You can Enter the Giveaway for a Free PDF version of the book (a $9.99 value) or if you can't wait you can purchase your own pdf version here.  Homestead Cooking with Carol is also available in PRINT at Carol's website.
 Congratulations Tracy F.!  Please respond to my email within 48 hours or I will need to choose a new winner.
a Rafflecopter giveaway
Save