Do-It-Yourself Soaps with All Natural Herbs, Spices, and Essential Oils
Receive the Soapmaking Bonus Collection
When you Order the Natural Soapmaking Book for Beginners
Four Soapmaking Videos
I'll show you my top best herbs for soapmaking and why.
A step-by-step walk-through of making a batch of soap to familiarize yourself with the process.
I'll show you a few swirling techniques so you can start getting excited about everything you can make.
I'll share wit you a number of ideas for wrapping and labeling soaps for a beautiful presentation.
Download Soap Labels
Labels add that special touch to your creations. Whether it's a decorative tag attached with twine or ribbon, or a wrap around band, you'll want to tell others what's in your soap and who made it. I provide samples to get you started.
A Bonus Recipe
Get a bonus herbal soap recipe! You can never have too many, right? This is one you're sure to be excited about trying: Lemon Balm Soap. Lemon balm has been shown to clam nerves when applied topically, making it great for irritated, antsy, itchy skin, and for cold sores. An all around uplifting and gentle soap.
To Join the Soapmaking Bonus Collection:
Step 2: Get the Bonus Collection
What's in The Natural Soapmaking Book for Beginners...
Step-by-step instructions, tips, and tricks for mastering:

cold-process soap making
decorating techniques
scent pairing
Natural ingredients that avoid harsh chemicals and artificial dyes, which can dry out and irritate your skin and build toxins within the body.
Illustrated charts detailing:

how and when to use natural colorants
how to blend and choose essential oils
how to create and use herbal infusions
Over 55 diverse recipes to choose from such as:

Castile soap
Shampoo bars
Shaving bars
Pet Shampoo
Anti-aging soaps
Acne Bars
Salt soaps
Goat-milk soaps
Soaps for holidays and fun occasions
So many more!
Ideas for wrapping and preparing your soaps for gifts or sale.
Natural soapmaking is like baking a cake.
Learn the basics and beautiful things will come.
The Natural Soapmaking Book for Beginners uses All-Natural methods and ingredients. Herbs, Spices, Essential Oils, and Pure Oils only.
Whether you're just starting out or have been making soap for a while, there are always new things to learn about adding herbs for medicinal purposes or to create beautiful colors in soap, how essential oils come together for amazing scents, or new techniques for swirling and layering.
If you're starting with absolutely no knowledge about making soap, I've covered what soap is scientifically, what you need and why, and how each ingredient comes together to give the soap different properties.
I walk you through each step of the process, breaking it down into easy to follow steps, dividing ingredients and steps into simple categories. You'll be walked through tutorials for soapmaking and then techniques like embossing, swirling and layering. Recipes will start simple and slowly become more challenging to give you the creativity options that you crave.
Do you have questions about lye? I teach exactly what it is and how you can use it safely, without concern. Safety is always a priority!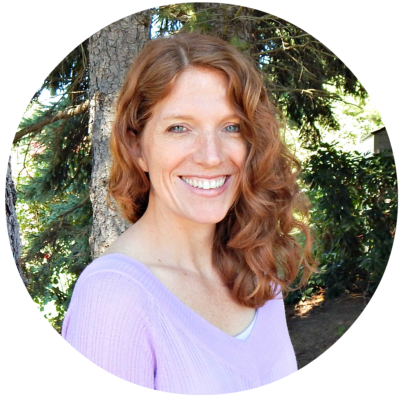 KELLY CABLE is the soap maker and herbalist behind Simple Life Mom.
For more than 10 years, Kelly has been making soap from scratch using all-natural ingredients and, since 2013, selling her soaps through her successful Etsy shop. She regularly leads soap making and natural beauty classes in three different states.
In The Natural Soap Making Book for Beginners Kelly shares her knowledge of the tricks of the trade for beginners and DIY veterans alike, by providing a great recipe resource in addition to the herbal coloring and soap making tutorials.
Step 2: Get the Bonus Collection