I've always loved doing little fun things with my kids. Fall crafts are usually easy projects. It's a great season to use nature to decorate your house. This means frugal and natural looking crafts.
I have a daughter who is super artistic and boys who pretend they aren't as interested, but are right in there whenever we start any project. These Fall Crafts for Kids caught our attention. We've tried most of them, and thought they were very fun and cute.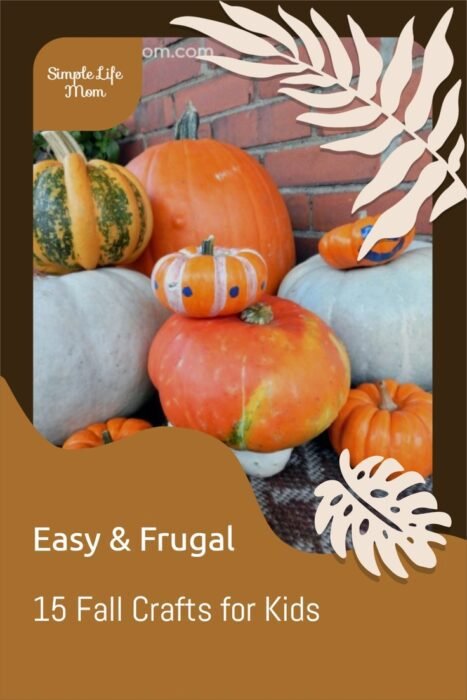 We got our pumpkins last night.
The pumpkins in my garden didn't grow very well this year, though my watermelons did (I know that has nothing to do with pumpkins, but I am just proud of them).
The kids painted pumpkins last night, between throwing the football, painting themselves, and running around with flashlights in the dark….. So, since we're carrying on with the fun projects and putting up Fall decorations today, we just had to share some of the great ideas we found!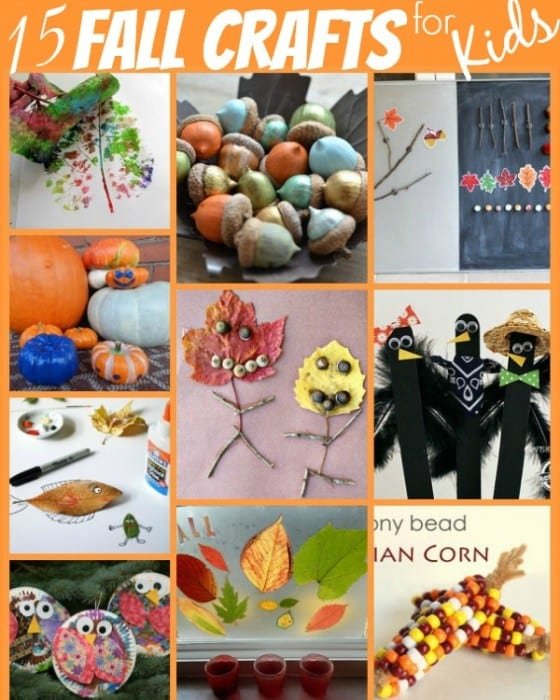 15 Fall Crafts for Kids
1. Painted Pumpkins
Kids of all ages can have fun creating painted pumpkins. They can paint anything from stripes to faces. It's also fun to let them pick out their own so they can begin to picture how they want it from the beginning.
We've set out paints and pumpkins for our Fall get togethers for kids to paint while adults visit.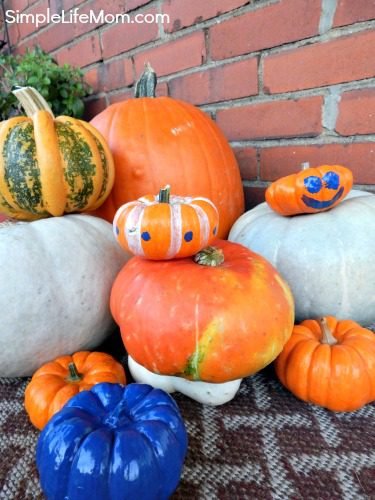 2. Fall Place Mats or Window Catchers
This is a fun project to do with all ages. Even very small children can participate, and their art is put on display as placemats for all to see.
Gather leaves from the yard.
Provide paper for them to cut out and make designs and letters from.
Place a piece of laminate paper on the table and tape the edges down so they can work without it moving or curling.
Place leaves and letters on the sticky laminate. My daughter also traced around her leaves with a marker to add a bit of extra color. Place another piece of laminate over the leaves, sticky side down. Trim the edges as needed.
You can also put these up on the windows (See the photo below).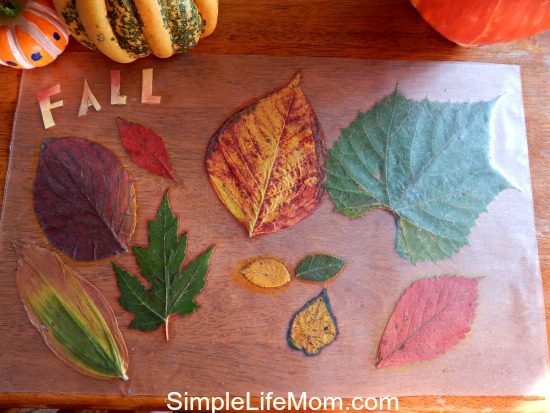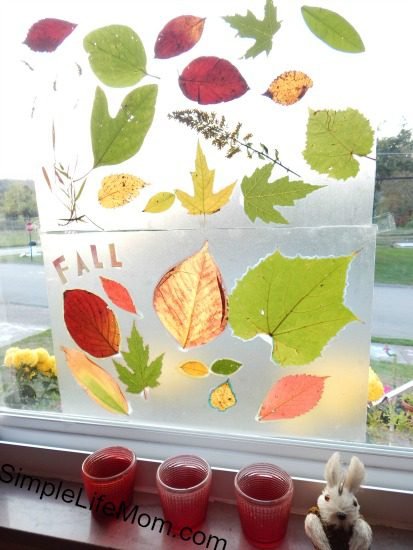 3. Salt Dough Ornaments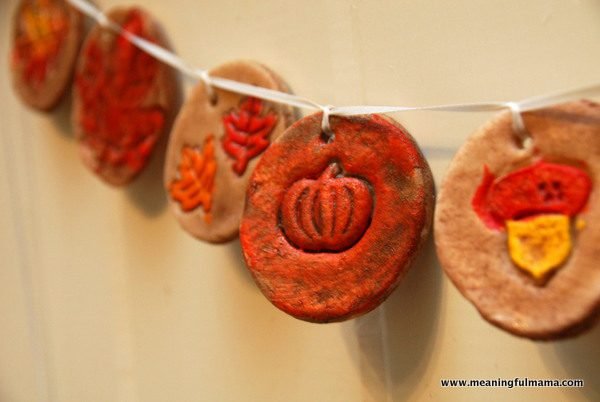 We've made something similar to these ornaments for our Christmas tree, but we thought it was a great idea to add some extra festivities above our Thanksgiving table this year with these Fall themed salt dough ornaments from Meaningful Mama.
4. Paper Plate Owls
These Paper Plate Owls from Happy Hooligans are so adorable.
We thought they'd go well with our salt dough ornaments. We decided to use small paper plates instead of large ones due to where we want to put them. Though you can give your kids a basic outline, this still leaves a lot of the decisions to them, which is what I really like about it.
5. Pine Cone Bird Seed Feeder
Don't forget those birds that are still around! We still have a lot of various sparrows, Carolina Chickadees, Nut Hatchers, and Blue Jays who stay in our yard year round. These pine Cone Bird Feeders from Bloomin Time is an oldie, but a goodie.
We actually make these every year. It's a fun Thanksgiving tradition to so with the younger and older kids.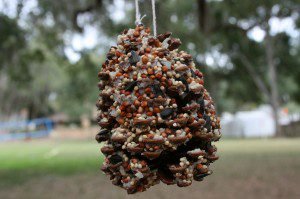 6. Painted Acorns
These painted acorns from Home Stories A to Z are something any adult could love, let alone the children. I can see my kids just dunking them in paint, but either way you'd come up with something pretty to put in a bowl.
Last year, since my kids are now older, we painted a number of pine cones and used them on the table for Thanksgiving and they added such a beautiful touch to the table.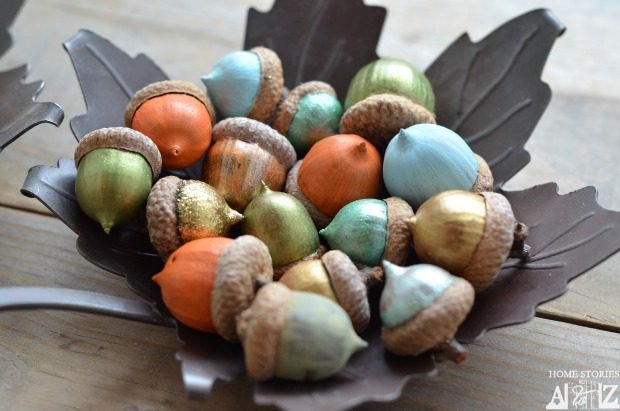 7. Leaf People
Seriously! These are just sooo cute!
My daughter was so excited to make these Leaf People from Fantastic Fun and Learning. My boys were also excited, but lets just say they didn't look like your regular leaf people when they were done! Oh, boys…what can you say? They had a lot of fun, plus we talked about different types of trees and their leaves.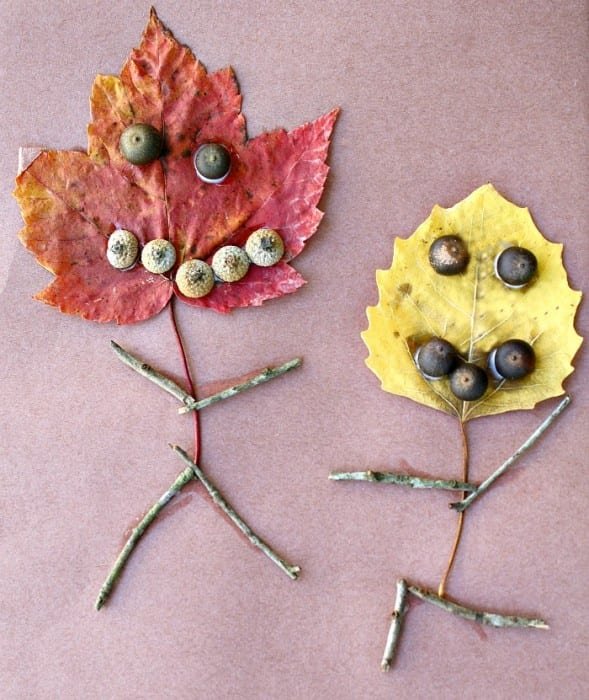 8. Pony Bead Indian Corn
These look complicated, but Jessica at Cutsie Crafts lays it out step by step. We have so many beads around the house, I figured this is a definite go for us. She also has cute beaded pumpkins on her site.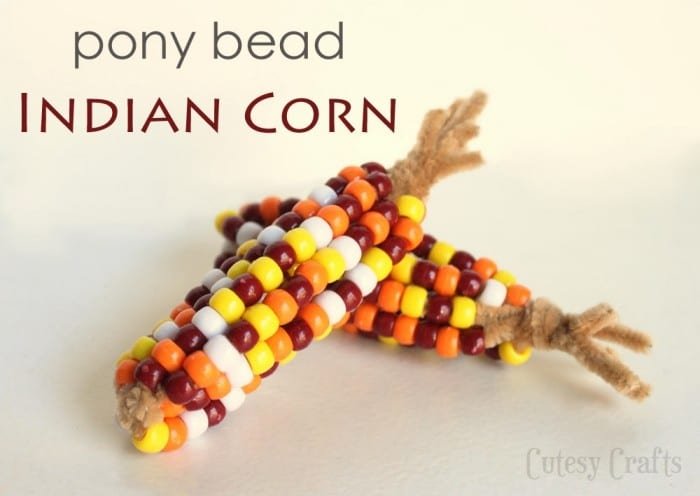 9. Autumn Mobile
This Autumn Mobile from Red Ted Art is far more organized than our will would ever be.
It's a fun idea for all ages. We even had dads patriciate in this project last year.. It's a great excuse for taking a nice fall walk or hike too.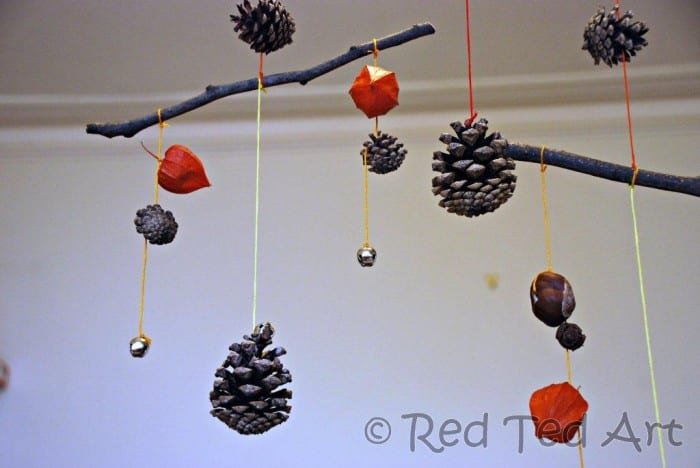 10. Leaf Printing
And of course, leaf printing! You can't do Fall Crafts without Leaf Printing!
You can also print using apples or zucchini, or other kind of squash or fruit. These pretty leaves are from Kleas.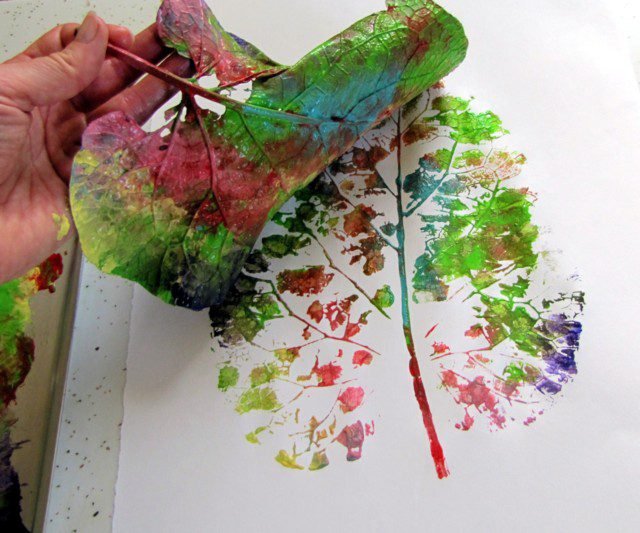 11. Leaf Critters
These adorable critters from Tinker Lab are right up our ally. I think I'll have my kids tell a story with theirs: kind of like a live comic book. Teens like to do this craft as well, once you get them going. Mine sat down with their younger cousins and made some hilarious pictures.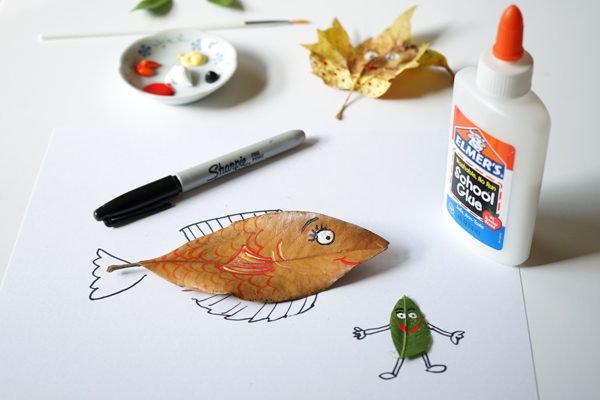 12. Craft Stick Crows
I thought these Craft Stick Crows from Kids Activities Blog were really unique. You can get almost everything you need from the dollar store too, which makes it a plus.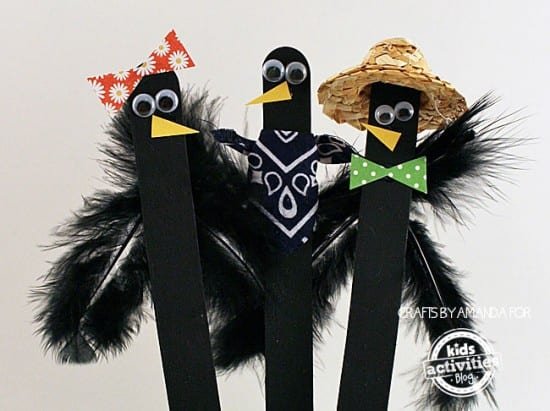 13. Apple Bowling Art
For this apple bowling you can use tiny pumpkins, but they definitely roll differently. Roll them in paint and roll over paper. Or decorate your sidewalk! Bowling or no bowling, this is a fun mess from Mess for Less.
14. Magnetic Fall Tree
This Magnetic Fall Tree is creative, fun, and educational. It's also something that can be used throughout the year in different ways.
You can find tiny magnets here and a magnetic board here. Just make sure your kids aren't young enough that they are putting things in their mouths and eating them.
Glue the magnets to the back of Fall items. You can create letters, little people, etc. to make this a fun art project that can be completed over and over again. Get all the details from Invitation to Play.
15. Apple Building
You cannot get more simple than this apple building idea from Fun at Home with Kids. Think of the math that can be learned! I love this picture of the little person and its "house". We've done this with apples, as well as graham crackers and marshmallows.
Give your kids different goals. It can be just building a house, or you can have them to try to make multiple levels or a bridge.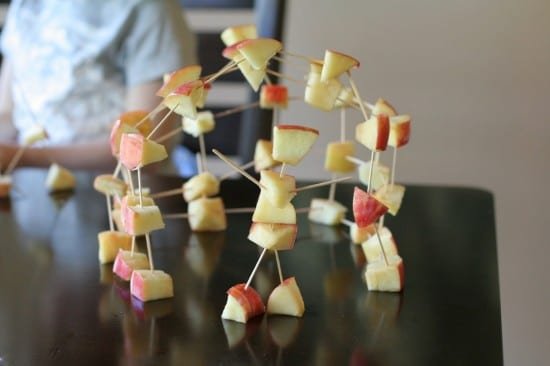 I hope you enjoy these Fall crafts and find something that you, your kids, or your friends will love to do this Fall.
Save