3 Homemade Hand Sanitizer Recipes
This post may contain Affiliate Links. Thank you for your support!

Not 1, not 2, but 3 Homemade Hand Sanitizer Recipes! Why 3? Because they are made differently and one may suit your lifestyle, needs, or just what you have in the cupboard better than another, and because I just like variety.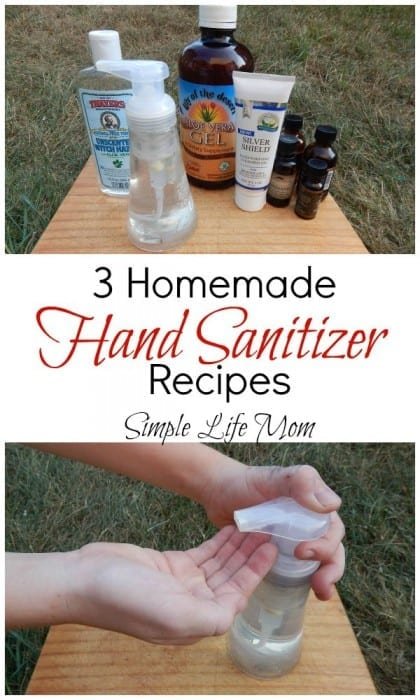 'Tis the Season for cute hairstyles, sports activities, and …….germs! I'm not being negative, just facing reality. School and increased group activities tend to lead to more sharing; sharing in the bad way. I'm all for exposing my kids to general bacteria in an effort to keep their immune system strong, but there are some major sicknesses that I just want no part of. They're past the stage of putting everything into their mouths, but I would still like to be cautious after visiting certain locations.
Why Make Your Own
So, why make your own hand sanitizer when it's pretty cheap just to buy some at the store?
The real reasons: healthy ingredients and better scent!
When you make your own, you know exactly what's in it, no questionable toxic ingredients or ingredients of unknown origin.
Typical Ingredients: Ethyl Alcohol, Acrylates C10-30, Alkyl Acrylate Crosspolymer, Benzophenone-4, Fragrance, Glycerin, Tocopherol, Water.
The Ethyl Alcohol is usually distilled from corn, and since most of our corn is GMO these days…Some of the other ingredients are considered rather non-toxic, yet fragrances are a toxic brew. For more information on fragrances you can see my article on Fragrances vs. Essential oils. There are slight concerns that toxic contamination can occur during the creation of some of these ingredients. They are acknowledged, but are considered to not be enough to worry about; just another little thing our bodies can filter out, because you know, we have nothing else to battle (sorry, I admit it, sometimes I'm a tad sarcastic).
I've got to mention scent as well. Those store bought hand sanitizers give me an instant headache. I LOVE making my own because I can make it smell however I like. So don't be afraid to add another essential oil than the ones listed for an aromatherapy touch.
So, without further ado…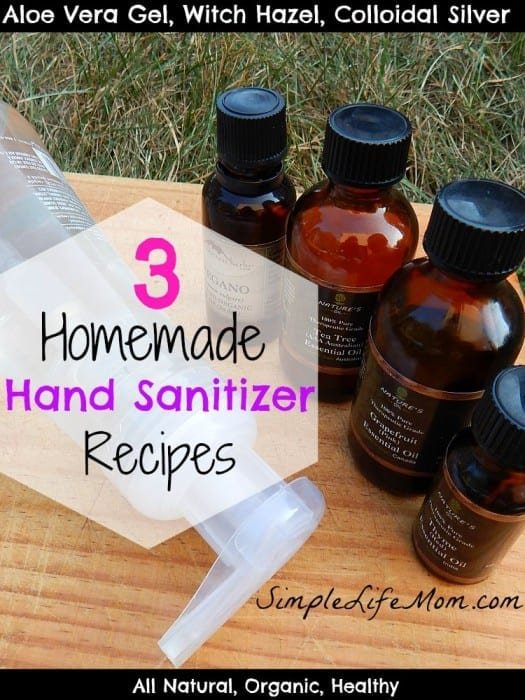 3 Homemade Hand Sanitizer Recipes
Saving old containers is wonderful. You can also find some 50 cent ones to keep and use for different family members. Otherwise you can use a small pump container like This One.
1) Aloe Hand Sanitizer
3 Homemade Hand Sanitizer Recipes - ALOE
Author:
Kelly - Simple Life Mom
2) Witch Hazel Hand Sanitizer
3 Homemade Hand Sanitizer Recipes - WITCH HAZEL
Author:
Kelly - Simple Life Mom
3) Colloidal Silver Hand Sanitizer
What a lot of people don't understand is that silver can build up in the body. One that does not build up in the body, but is processed within 24 hours is Nature's Sunshine Colloidal Silver. If you don't use it in hand sanitizer, use it for cold and flu symptoms. We take 1 tsp when we feel ourselves coming down with something.

3 Homemade Hand Sanitizer Recipes
Author:
Kelly - Simple Life Mom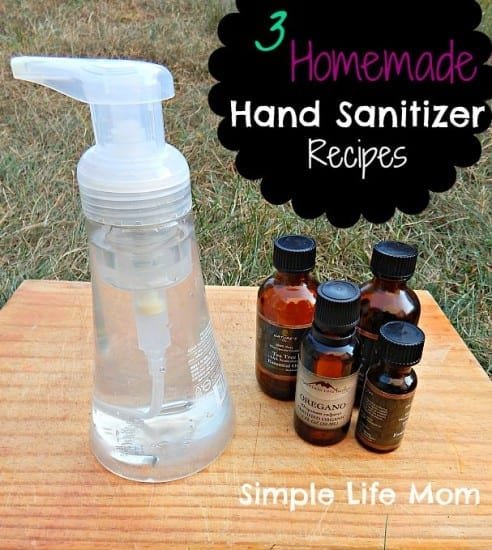 Choose which recipes works for you and give it a try.
Make sure you let us know which one is your favorite and why.
Shared on some of these great blogs.
Save