Not 1, not 2, but 3 Homemade Hand Sanitizer Recipes! Why 3? Because they are made differently and one may suit your lifestyle, needs, or just what you have in the cupboard better than another, and because I just like variety.
Before We Begin!
Due to popular demand, I've put hand sanitizer in my shop. You can find it here: Hand Sanitizer
Now on to the Recipes!
'Tis the Season for cute hairstyles, sports activities, and …….germs! I'm not being negative, just facing reality. School and increased group activities tend to lead to more sharing; sharing in the bad way. I'm all for exposing my kids to general bacteria in an effort to keep their immune system strong, but there are some major sicknesses that I just want no part of. They're past the stage of putting everything into their mouths, but I would still like to be cautious after visiting certain locations.
Why Make Your Own
The real reasons: healthy ingredients and better scent!
When you make your own, you know exactly what's in it, no questionable toxic ingredients or ingredients of unknown origin.
Typical Ingredients: Ethyl Alcohol, Acrylates C10-30, Alkyl Acrylate Crosspolymer, Benzophenone-4, Fragrance, Glycerin, Tocopherol, Water.
The Ethyl Alcohol is usually distilled from corn, and since most of our corn is GMO these days…Some of the other ingredients are considered rather non-toxic, yet fragrances are a toxic brew. For more information on fragrances you can see my article on Fragrances vs. Essential oils. There are slight concerns that toxic contamination can occur during the creation of some of these ingredients. They are acknowledged, but are considered to not be enough to worry about; just another little thing our bodies can filter out, because you know, we have nothing else to battle (sorry, I admit it, sometimes I'm a tad sarcastic).
I've got to mention scent as well. Those store bought hand sanitizers give me an instant headache. I LOVE making my own because I can make it smell however I like. So don't be afraid to add another essential oil than the ones listed for an aromatherapy touch.
Why Essential Oils?
Essential Oils have become very popular in the past 10-20 years. Because of the uprising of use and popularity, there are a lot more independent and collegiate studies to help support traditional knowledge of herbs and natural remedies.
While some essential oil studies were done in conditions that are not practical for humans (doses at levels that would harm human cells), a lot of studies are now available using more standardly accepted direct oil dosages and diffuser methods.
These studies show the efficacy of many essential oils against viral and bacterial strains. H1N1 and Herpes strains have been tested, as well as effects on decongestion, bronchial muscle relaxation (so you can breathe better) and other benefits. See Boost Your Immune System for more details.
Essential Oils great for Hand Sanitization are:
Tea Tree
Rosemary
Cinnamon
Oregano
Eucalyptus
Lavender
Clove
Bergamot
I've combined a few oils in the recipes below. Feel free to switch out or add a drop of another oil, just keep the oil to carrier rate percentage down to 2.5% concentration.
You can learn more about disinfectant essential oils here.
And you can learn more about boosting your immune system with herbs and essential oils here.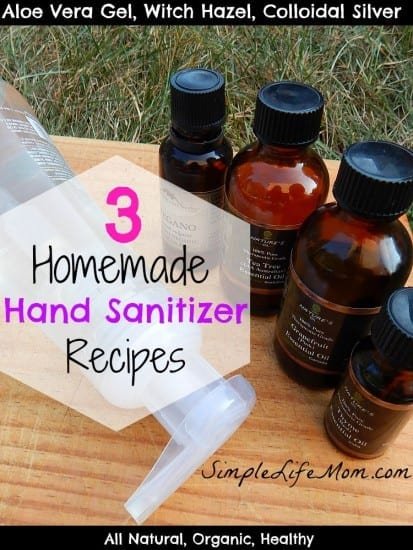 3 Homemade Hand Sanitizer Recipes
Disclaimer: these recipes were put together with my own research on what has been studied so far using essential oils on bacteria and virus in controlled conditions. I am not claiming that this is going to kill CORVID-19. It would have to be lab tested before anyone could state that, just as any non herbal hand sanitizer should have to say the exact same thing. I and my household will be using these recipes, but do your own research and make your own decisions as you are responsible for yourself.
Saving old containers is wonderful. You can also find some 50 cent ones to keep and use for different family members. Otherwise you can use a small pump container like This One.
1) Aloe Hand Sanitizer
3 Homemade Hand Sanitizer Recipes – ALOE
2) Witch Hazel Hand Sanitizer
Equipment
Ingredients
Instructions
Combine all ingredients in a 6 oz spray container.1/4 cup non alcohol witch hazel,1/2 cup aloe vera gel,10 drops lavender essential oil,5 drops rosemary essential oil,15 drops tea tree essential oil
Rub a few drops onto your hands to kill germs.
3) Colloidal Silver Hand Sanitizer
What a lot of people don't understand is that silver can build up in the body. One that does not build up in the body, but is processed within 24 hours is Nature's Sunshine Colloidal Silver. If you don't use it in hand sanitizer, use it for cold and flu symptoms. We take 1 tsp when we feel ourselves coming down with something.
Equipment
Ingredients
Instructions
Combine all ingredients and place in a 4 ounce spray bottle.1/2 cup aloe vera gel,1 tablespoon colloidal silver,2 drops Tea tree essential oil
Rub a few drops onto your hands to kill germs.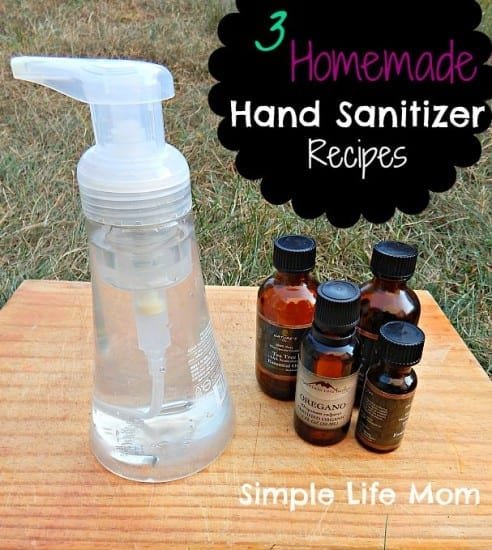 Remember, if you don't have everything on hand, you can also
Save