Headaches, especially migraines, are horrible and can effect everything in the day. My quest to find herbal headache remedies started years ago. I used to get migraines that would put everything on pause. I couldn't stand without losing my vision, much less get any chores done.
My pain was hormone related. It wasn't until I got my hormones under control that my migraines got fewer and farther between. Now I only have one maybe once a year. And I know what to do to help minimize the time I'm in pain and lessen the severity.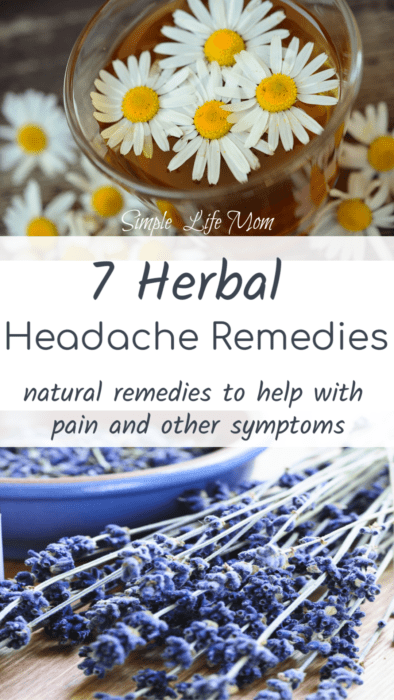 Rule Out the Easy Solutions
Are you getting enough sleep?
Sometimes being very tires can upset body regulations and cause headaches. Are you getting enough sleep? Are your eyes tired from staying up too late watching tv, looking at your phone, or reading a book? Straining your vision and being tired can trigger headaches.
Are you getting enough to drink?
When I say drink, I mean water. Are you drinking enough water during the day? Caffeinated drinks are diuretics and can cause water loss, while sugary drinks can lead to headaches as well. Don't forget to drink pure water as well as herbal teas.
Herbal Headache Remedies
There are times when you know you've had sleep, had plenty to drink – or maybe you haven't but this is the state you're in right now and you just need help. What then?
There are herbal remedies that can help take the edge off of a headache or migraine.
Lemonbalm
Lemonbalm is a great herb to have on hand. It tastes wonderful and smells great too. It acts as a sedative to nerves and relaxes tense muscles as well. If you are having a tension headache from tight muscles or stress, this is a great herb to try. It's easy to grow for yourself (kind of prolific like peppermint), but you can also buy it in bulk or as a tea already in bags.
Chamomile
Chamomile is known for its relaxing benefits. When your head hurts and you know you'd feel better if you could just get some sleep, chamomile can often help relax you enough so that you can fall asleep. You can buy it in bulk here or as a tea in bags. Just make sure to buy teas that have toxin free bags.
Feverfew
Though not suggested for use if pregnant or breastfeeding, feverfew is a bitter herb that does more than just calm a headache. For many people, feverfew takes headaches away completely! It also takes a lot of symptoms that go along with horrific headaches, like vomiting, nausea, sensitivity to light and noise, and pain.
Bitters are great when combined with certain juices (and carbonated water). But it is easy to find in pill form like this as well.
Butterbur
butterbur is an herb that helps remove the inflammation that often causes headaches. It helps relive symptoms and frequency of occurrence (1).  You can find some here.
Magnesium
Magnesium effects the nervous system. It is often found to be low in people with severe migraines. If you are already taking magnesium and have a migraine, be careful taking much more because too much magnesium can actually cause headaches. Most ER doctors will give people suffering from severe migraines who come in with magnesium.
Chelated magnesium or magnesium oxide is a good choice.
Peppermint
Peppermint doesn't touch my headaches, but I know people who say it knocks the edge off of their headaches and it always helps my muscles relax. It has a cooling effect that can relax muscles in the head and neck. You can use peppermint essential oil and place a drop on the roof of the mouth. You can also drink a peppermint tea. It's very uplifting, helps open the sinuses, and is relaxing. Get some fresh tea here.
Cayenne Salve
You can also use a cayenne salve to help numb the pain. Cayenne applied to the temples can help relax muscles, reduce inflammation, and reduce pain. Here's a great recipe so you can have some on hand.