I had a large jar with no lid (broken…boys…enough said) and a stack of pressed Fall leaves.  What to do?? Make an Autumn Glass display jar as a fun Fall craft of course!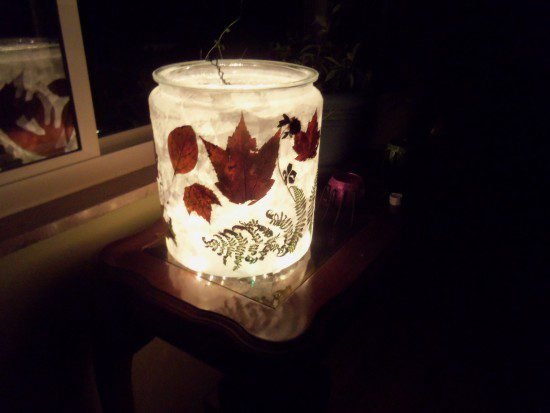 I saw a similar idea on Pinterest where someone had used dried flowers to decorate a jar, so we decided that we could use our dried leaves in a similar way.  Two of my kids and I sat down in the middle of the kitchen and went to work.
Step 1: Press Autumn Leaves
We had collected at least 20 leaves with beautiful Autumn colors and pressed them between paper in a large book for at least a week.  When they were completely dry we were ready to go.
Step 2: Gather supplies
Large glass jug or jar
pressed leaves
paint brushes
school glue
water
bowl for glue
white tissue paper torn into pieces about 4 inches by 4 inches.
Step 3: Prepare Glue
Pour glue into your bowl.  Pour in an equal amount of water.  We used a school glue bottle and poured the water from the same bottle. Mix glue and water mixture until it is mixed thoroughly.
Step 4: Create
Paint a leaf with glue and place it flat on the outside of the glass.
Paint the top of the leaf and the surrounding area.
Put tissue paper pieces on and around leaf.
Repeat around glass.
When glass is full of leaves and tissue paper, add one more layer of glue and tissue paper (sop it on nice and thick).
It will take a few hours to dry.
Step 5: Display
We enjoyed adding some white lights inside the jar and displaying in our living room.  It really added a nice and peaceful glow.
I hope you also enjoy that nice peaceful glow.  You can make these on a smaller scale on mason jars.  Kids can decorate their own jar.
**If You are not going to light it up and are using a wide mouth jar like the one above, I would recommend gluing the leaves to the inside.  The leaves will display better when not being lit up.
Save