A number of people have seen and made the Aromatherapy Shower Discs.  These DIY Bath and Shower Scrubbers are very similar, except their main purpose is for scrubbing; scrubbing your bath tub, scrubbing your shower walls and floor, even getting the scum off of your bathroom or kitchen sink. They are amazing for cleaning (with some aromatherapy on the side!)
They provide a gentle, but thorough scrub without the harsh chemicals.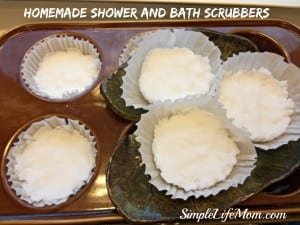 Whenever we are smelling bleach and other strong chemicals it means that we are inhaling them. Those tiny particles are going into our bodies and into our bloodstream. With these shower scrubbers you don't have to worry about harsh chemicals. Instead, you can enjoy whatever smell you choose to use by adding essential oils.
These are awesome because what you will be smelling, and thus inhaling, will be essential oil goodness. It really makes scrubbing the tub more tolerable!
What's your favorite Essential Oil?
Some people love lemon or other citrus smells in their cleaning products.  I like to use lavender combined with a naturally disinfectant essential oil like lemon grass or tea tree.
DIY Bath and Shower Scrubbers
Bath and Shower Scrubbers
Instructions
Combine all ingredients and spoon into muffin tin with wrappers.
If you are in a rush, you can always put them in an oven on warm and remove when they are hard. Otherwise, just let them set overnight.
Keep in cupboard with other cleaning products. You can keep in a zip close bag to help maintain essential oil smells. When ready to use, take one out of its wrapper, wet surface to be scrubbed, and scrub away! Enjoy the smell, then rinse.