I drink tea pretty much all day every day. I love herbal teas, but a good black tea with milk and a tiny smidge of sugar is just comfort to me. I'll mix in a bit of coffee in there occasionally as well (in my day, not in my tea). So, basically, I try and dye my teeth brown all day every day and it's working. It's time for some DIY teeth whitening!
Obviously, I'm joking and don't want to dye my teeth brown, but daily drinking of tea and coffee can have that effect over time. This is what got me searching for a good DIY teeth whitener. And I tried a lot.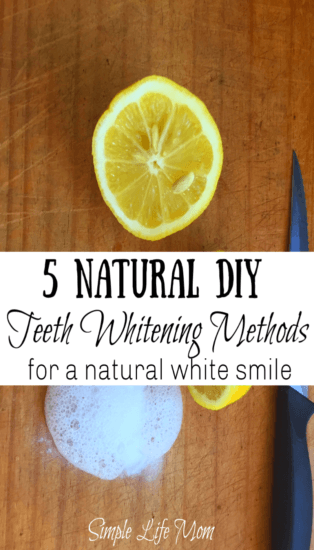 Non DIY Teeth Whitener Methods
There's a lot of options for teeth whiteners in the store. I've used strips in the distant past and they do whiten teeth over time. Because of my past success with them, I stopped off at my local store and checked out the options.
It wasn't pretty folks!
The ingredients! I still can't get over them! When I add lye to soap, it saponifies the oils and there is a chemical reaction so that absolutely no lye is left in the soap. There's nothing left but soap. I work with sodium hydroxide a lot and know the dangers of letting it sit on your skin.
Every whitening product I could find had sodium hydroxide. It is natural, but it is as basic as battery acid is acidic. It's as strong as you can get. You wouldn't put battery acid on your teeth, because you know it could eat at your skin and be absorbed into your blood stream, but we're putting on sodium hydroxide? This doesn't make sense to me.
This, more than anything, is what made me look into natural DIY teeth whitener methods in hopes of finding:
Ingredients that are natural AND healthy
Recipes that doesn't tear up your teeth and gums
5 DIY Teeth Whitening Methods
Warnings
You do NOT want to burn or irritate your gums. Also, you do NOT want to be too harsh on your teeth and then make them sensitive. I had very sensitive teeth before using natural tooth powder. I'll state below whether I noted any difference in sensitivity using these methods. Use your own judgement for your teeth.
1. Lemon and Baking Soda
How: Place 1 teaspoon in a bowl and and squeeze lemon juice on top. It will begin to fizz. Use your tooth brush to give it a mix. Scoop some up onto your brush and gently brush your teeth.
Verdict: This is actually one of my favorite methods. Multiple uses really did whiten my teeth. It has a strong taste, but not bad. I wouldn't use this every day, but 3 times a week for just 2 weeks should do the job completely.
2. Oil Pulling
How: This method of teeth whitening is not only, safe, but extremely healthy. Learn more about oil pulling and other benefits here.  You simply place a tablespoon of good quality coconut oil in your mouth and swish around for 15-20 minutes. Spit into a trash can (not your sink) to avoid clogging your drain.
Verdict: This takes time to whiten your teeth, but your teeth didn't get yellow over night either, so give it a chance to work. No concerns over sensitization. In fact, oil pulling will help sensitive teeth, bacteria, infections, and more.
3.Hydrogen Peroxide and Baking Soda
How: Combine equal parts baking soda and hydrogen peroxide (O2) and brush gently for 2-3 minutes. Repeat daily until you see the results you are looking for.
Verdict: Hydrogen peroxide is said by dentists to whiten the dentin beneath your enamel. This made it a very intriguing choice. I wasn't quite sure it would work but was really surprised! Love this option! It's a great healthy choice.
4. Apple Cider Vinegar and Water
How: Dilute apple cider vinegar in half and gargle before brushing.
Verdict: I know some people dilute and drink a little apple cider vinegar before meals. This is what my naturopathic doctor told me to do to help digestion and the absorption of nutrients. It's just difficult for me. The taste is strong. I didn't see much of a change in my teeth with this method, but can't say I kept it up long enough to say for sure.

5. Activated Charcoal and Coconut Oil
How: This method can get messy, but nothing some good dish soap can't take care of. Combine 1 teaspoon of activated charcoal and 1/2-1 teaspoon melted coconut oil. Scoop some onto your toothbrush and brush GENTLY in round strokes for 2 minutes. This method can make your teeth a little sensitive if you brush vigorously (what I did with my first use). Just like those magic erasers seem too smooth to be abrasive enough to do anything, activated charcoal looks smooth, but is very abrasive. You do not what to do this often or brush too hard.
Verdict: I did see a slight improvement after doing multiple times, but I felt the lemon and baking soda method worked better. And the mess, even after spitting most of it in the trash can to avoid clogging drains, was amazing! I know this is a big internet craze right now, but because of the slight sensitivity it gave me, the mess, and that it didn't seem to work as well as some of the other methods, it didn't rank very high with me.
You can actually oil pull with activated charcoal and coconut oil if you'd rather try that instead of the brushing method. I liked using the activated charcoal better that way than rushing due to its abrasiveness.
There you have it! Know other methods that are natural and work wonders? Let us know.