Frankincense has been in the news for the past few years, gaining popularity among those looking for alternative health remedies. Universities in Europe and the United States have been doing research to give more credit to claims of tumor reduction in cancer patients, lowering inflammation, and other natural health benefits. I've had so many questions concerning frankincense that I decided to put together this article on Frankincense Benefits and Types in order to consolidate a lot of information for you and give more credit to the respected research that is available.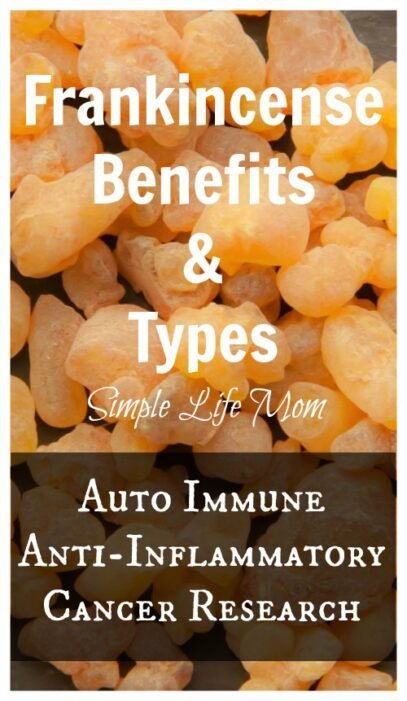 What is Frankincense?
Frankincense is basically tree sap extracted from a Boswellia tree. Like Myrrh, it is a resin. The Boswellia tree comes in 4 major varieties (there ARE others):
Carteri or Sacra (botanists believe to be the same variety, contrary to what some essential oil companies claim) is native to North East Africa: Oman and Somalia. It is high in the chemical properties of alpha pinene, and other monoterpenes
Serrata is native to India and North Africa. High in the chemical properties of alpha thujene, alpha pinene, and limonene. This variety yields a higher amount of essential oil, making it often slightly cheaper than other frankincense essential oils.
Papyrifera is native to mountainous regions of Ethiopia. High in Incensole and incensole acetate.

Frereana is native to mountainous regions of Somalia. It is high in the chemical properties of pinene, thujene, and cymene.
How is Frankincense Extracted?
A Boswellia tree is injured in a way so that its sap runs out from its bark. This then hardens into what is called Frankincense "tears". These little nuggets of sap are then sold to be processed and used in a variety of ways. Today, you can buy frankincense as:
a finely ground powder
as an extraction
or in essential oil form
Frankincense Extract Oil can also be found in my shop with extra frankincense and myrrh essential oils added.
Learn More
Recent Research on Frankincense Benefits

Research on Frankincense benefits has been conducted for many years, but there has been a confusion as to which varieties were used, discrediting results. Recent studies have taken varieties into account and have isolated particular chemical properties (as listed above), testing those properties and their impact on animals and people along with other plants that are high in those similar properties.
Sedative Effects:
For example, frankincense that is high in incensole acetate was tested along plants that also have incensole acetate like cannabis, tobacco, and Salvia divinorum. It was found that is was similar in its sedative effects (1).
Strong Anti-Inflammatory Properties:
Many many studies have now focused on Frankincense and anti-inflammatory diseases, such as arthritis. One study showed that Carterri has very strong anti-inflammatory properties because of its incensole acetate (2), while another focused specifically on the boswellic acid with frankincense reducing liver inflammation (3).
Healing of the Immune System:
It's ability to heal the immune system impacts us in two ways. First, we will heal faster from sicknesses. Second, auto-immune diseases are reduced or eliminated! (4)
Reduce Cell Oxidation:
You know what this mean? Beautiful skin! Frankincense helps reduce inflammation, drains excess liquid and puffiness, and is a wonderful antioxidant (closely behind peppermint and lavender essential oils).
Cancer Research and Boswellic Acid:
While some studies have focused on Boswellic acid and its healing effects on osteoporosis (5) and asthma (6), many studies (almost 200 hundred to date) are now focusing on its impact on cancerous tumor reduction. An example of types of cancers that have been studied are leukemia, prostate cancer, brain, and ovarian cancer!! (7, 8, 9, 10, 11) The results are amazing! Very exciting.
Frankincense is able to reduce inflammation, greatly increase your efficiency of fighting white blood cells and T-cells, and genetically effect cells so they recognize cancer, and promote their healing.
The amount of research being done presently is very respected and numerous. It is not surprising that large pharmaceutical companies are keeping the research quiet, but I hope that people in general begin to look into these studies more and insist that they be heard.
2 Very Important Questions
Which Frankincense varieties have the most boswellic acid?
Is boswellic acid present in sap, powder, and essential oil, or just one or two of those forms?
First, boswellic acid is the tip of the ice berg so to speak when it comes to the wonderful capabilities of frankincense. There are other extremely valuable chemical properties that have been shown to reduce inflammation, inhibit oxidation of cells and therefore increase beauty and health from the skin level in. Don't get caught up on one aspect of frankincense just because it happens to be the one aspect that is receiving a lot of research.
Which varieties have the most boswellic acid?
Boswellic Acid is definitely found in Boswellia Careteri or Sacra and Serrata. However, studies show that there is no boswellic acid in Boswellia Frereana (12).
Which forms contain boswellic acid?
Boswellic acid IS found in powders, extracts, and tears. Essential oil does not contain boswellic acid. It should be clear that essential oils are volatile oils and cannot contain a heavy non-volatile element such as boswellic acid.
There have been a few studies that show an impact on cancer by frankincense essential oil within a petri dish, focusing on other chemical components present. While this is exciting, it does not give us the information or support needed to claim that it is effective within the human body. I believe it is very impacting, but these are based on individual experiences, not published and respected research (we are funny like that).
How Do You Use Frankincense?
So, of course, the next question is, "How do I get these wonderful benefits?" I've stated that you can use the powder or make an extract using alcohol or oil to utilize the boswellic acid. But remember, even though the essential oil doesn't contain boswellic acid, it has been shown to work wonders for people as well.
I've focused an article specifically on the topic of making and using your own extract or essential oil blend.
Buy Frankincense Extract with extra frankincense and myrrh essential oils added.
Learn More
References
Moussaieff A, Rimmerman N, Bregman T, et al. Incensole acetate, an incense component, elicits psychoactivity by activating TRPV3 channels in the brain. The FASEB Journal. 2008;22(8):3024-3034. doi:10.1096/fj.07-101865. https://www.ncbi.nlm.nih.gov/pmc/articles/PMC2493463/
J Cereb Blood Flow Metab. 2008 Jul;28(7):1341-52. doi: 10.1038/jcbfm.2008.28. Epub 2008 Apr 16. https://www.ncbi.nlm.nih.gov/pubmed/18414499
Liu M, Wu Q, Chen P, et al. A Boswellic Acid-Containing Extract Ameliorates Schistosomiasis Liver Granuloma and Fibrosis through Regulating NF-?B Signaling in Mice. Rénia L, ed. PLoS ONE. 2014;9(6):e100129. doi:10.1371/journal.pone.0100129.
Ammon HP. Department of Pharmacology, Institute of Pharmaceutical Sciences, University of Tuebingen, Tuebingen, Germany. [email protected]. Modulation of the immune system by Boswellia serrata extracts and boswellic acids. 2010 Sep;17(11):862-7. doi: 10.1016/j.phymed.2010.03.003. Epub 2010 Aug 8. https://www.ncbi.nlm.nih.gov/pubmed/20696559
Wang Q, Pan X, Wong HH, et al. Oral and topical boswellic acid attenuates mouse osteoarthritis. Osteoarthritis and cartilage / OARS, Osteoarthritis Research Society. 2014;22(1):128-132. doi:10.1016/j.joca.2013.10.012. https://www.ncbi.nlm.nih.gov/pmc/articles/PMC3992997/

Liu Z, Liu X, Sang L, Liu H, Xu Q, Liu Z. Boswellic acid attenuates asthma phenotypes by downregulation of GATA3 via pSTAT6 inhibition in a murine model of asthma.

International Journal of Clinical and Experimental Pathology

. 2015;8(1):236-243. https://www.ncbi.nlm.nih.gov/pmc/articles/PMC4348891/

Pathania AS, Wani ZA, Guru SK, et al. The anti-angiogenic and cytotoxic effects of the boswellic acid analog BA145 are potentiated by autophagy inhibitors.

Molecular Cancer

. 2015;14:6. doi:10.1186/1476-4598-14-6. https://www.ncbi.nlm.nih.gov/pmc/articles/PMC4509694/

Academy of Scientific and Innovative Research, CSIR, New Delhi, India. https://www.ncbi.nlm.nih.gov/pubmed/23948751
Natural Product Microbes Division, Indian Institute of Integrative Medicine (CSIR), Canal Road, Jammu Tawi 180 001, India. Acyl derivatives of boswellic acids as inhibitors of NF-?B and STATs. 2012 Jan 1;22(1):431-5. doi: 10.1016/j.bmcl.2011.10.112. Epub 2011 Nov 9. https://www.ncbi.nlm.nih.gov/pubmed/22123322
Pang X, Yi Z, Zhang X, et al. Acetyl-11-Keto-?-Boswellic Acid Inhibits Prostate Tumor Growth by Suppressing Vascular Endothelial Growth Factor Receptor 2-Mediated Angiogenesis. Cancer research. 2009;69(14):5893-5900. doi:10.1158/0008-5472.CAN-09-0755. https://www.ncbi.nlm.nih.gov/pmc/articles/PMC2724674/
Eindhoven University of Technology, Electrical Engineering, Eindhoven, the Netherlands. Angiogenesis in prostate cancer: onset, progression and imaging. 2012 Dec;110(11 Pt C):E794-808. doi: 10.1111/j.1464-410X.2012.11444.x. Epub 2012 Sep 7. https://www.ncbi.nlm.nih.gov/pubmed/22958524
Analysis of frankincense from various Boswellia species with inhibitory activity on human drug metabolising cytochrome P450 enzymes using liquid chromatography mass spectrometry after automated on-line extraction.