Yes, I really do like to try my hand at making everything we use. Dog food is no exception.
If you have a dog, then you know that it is extremely expensive! That fact alone may have spurred you to consider making your own dog food. But there are a lot of other factors to consider as well.
Ever heard the term, "You get what you pay for"? The older I get, the more I've realized how true this phrase actually is. Of course you can get ripped off and taken advantage of, but in general in our beloved capitalistic society, value wins and if you do your research and choose wisely, then higher quality (which is usually a lot more expensive) gives you more quantity (in years usually, which translates into money over time).
All this to say, if you buy junk dog food, your dog will have bad health and die sooner with a lot of vet bills before hand. If you buy or make good dog food, then your dog will be healthier and have less vet bills and will probably live longer and happier.
Quality matters!
I started looking into the dog food on the shelves after we got a puppy last year (She's a chocolate Labrador who is FULL of energy and very vocal).
Typical Store Bought Dog Food Ingredients
You can literally find dog food out there that is: GMO free, gluten free, soy free, corn free, grain free, artificial colors and preservative free, made for old dogs, young dogs, diabetic dogs, over weight dogs, under weight dogs. You name it! It's one of the most lucrative production industries out there! Seriously! I keep teasing my kids and telling them to get into the dog food producing business.
The problem is that there is a lot of junk out there. And just because you find a small company does not mean they're better. It's the knowledge and ethics of the owners, not the size of the company!
A lot of dog foods use cheap gmo and pesticide filled grains to bulk up their product so they can make more money off less cost to them. The number one ingredient in a lot of dog food is animal bi-products or digest. These are the sludge of animal processing. Though I'm not opposed to dogs eating fresh animal bi-product (when you process chickens, save whatever you don't use, minus bile of course, and freeze for your dog food), there's a difference between what you process and know about and what's at the bottom of the barrel at large processing units that it then sold to dog food companies.
Other filler ingredients, as mentioned above, are corn and wheat meal, and soy and corn protein. These can be fillers that make the protein to grain ratio imbalanced. Not all grains are bad to have in a dog food. They just need to be healthy and balanced. Learn more about the terms used on labels here.
There is also a list of preservatives in a lot of dog foods like, BHT, BHA, Ethoxyquin, and TBHQ. These are toxic for humans and dogs alike. Good companies will use rosemary, vitamin E, ascorbic acid, citric acid instead.
You can find good quality dog food out there at a hefty price. They will name specifically what chicken meal or other protein is used. They won't just use pea protein (though pea protein is good, remember that it dogs digest animal proteins easier). They won't have toxic preservatives, and mystery bi-products, meals, or gmo grains.
I can't afford to spend that much on my dog, though we love her very much.
Thus, my research into making dog food for myself.
Homemade Dog Food Ingredients
The goal for homemade dog food is two fold: Being Frugal and Healthy.
If I'm spending as much as I would if I bought a super good quality dog food, then I may teach myself how to make it in order to have the skill, and then go back to purchasing just to save time. BUT, if I can make homemade healthy dog food AND it is cheaper than high quality store bought dog food, then I will be very happy and continue to make it. See my results below.
The ingredients
Animal protein is important. Dogs can digest plant protein, but it is easier for them to digest proteins from animals such as meats, eggs, and fish. My recipe has meat or poultry and eggs.
Dogs can eat table scraps. What is NOT good for dogs is cooked chicken bones (They get sharp and can hurt the intestines. Raw is typically ok), candy, junk food like hot dogs that are super high in fats, and other highly processed foods.
But if you make a real food meal and have leftovers that are healthy meats, potatoes, and veggies then the dog can definitely eat those. Check out thedogfoodproject.com for some more details about this topic.
Dogs can eat veggies and carbs. My dog will sneak veggies from the garden if I don't watch her. She loves curry, chicken, broccoli, and rice leftovers. Dogs no longer have the same digestive system as wolves.
That doesn't mean they can eat human junk food (just as we shouldn't) and have other issues that need you need to be conscience of, but carbs are not the enemy. They provide energy and fiber. They just need to be balanced with proteins. Veggies add the vitamins and minerals to help give your dog what he or she needs.
I have to give a disclaimer: A dog can have allergic reactions to pretty much anything, just like humans. If your dog has an aversion or reaction to this recipe, then stop feeding him/her immediately and take to a veterinarian. This recipe hasn't been tested by any association and group. This is simply something put together through my own research. We've been using it for months and my dog is as healthy and happy as ever. Her coat is better and her allergy issues are actually gone. But all dogs are different and have different needs. Do your own research as well and make adjustments accordingly.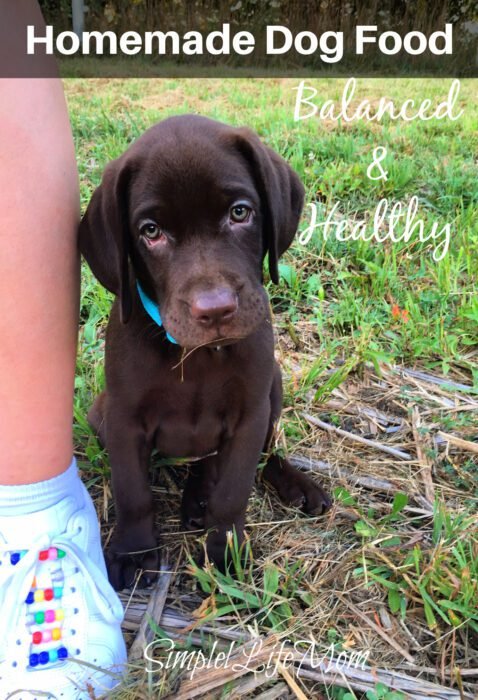 Homemade Dog Food Recipe
Makes: 30 cups, or 15 two cup meals for large dogs
Ingredients:
2 lbs ground pork, turkey, or beef
16 cups water
5 cups rice
4 cups rolled oats
24 ounces (3 cups) pumpkin puree
5 eggs
1 lb veggies (peas, broccoli, green beans, carrots)
2 teaspoons turmeric
2 teaspoons thyme
1 teaspoon rosemary
1 teaspoon salt
Directions:
Over medium heat, brown meat in large pot.
Add water, rice and oats and cook until rice is fully cooked and soft.
Add additional ingredients and stir well.
Remove from heat and allow to fully cool.
Scoop into individual zip close bags, weighing the amount needed for your dog's size.
Place some bags in the fridge for use and the others in the freezer.
Note: for small dogs you may want to cook veggies separately and smash before adding to the pot of food.
Price Breakdown
The total price of this recipe will totally depend on what you pay for ingredients, of course. This batch cost me $10, most of the price coming from the ground turkey that I purchased.
A more frugal approach would be to freeze leftover meat until you have around 2lbs to use in this recipe. Cut into small pieces before adding.
We feed our dog 2 cups of this food per day. Determine how much your dog needs for his or her size and breed.
Our dog's weigh recommendations (at 70 pounds) is about 2-1/2 cups in a day. She eats almost 2 cups at night and a small meal in the morning. We give her more than 2-1/2 cup total in a day, but she goes running with my husband (her favorite part of the day) and can definitely eat the extra calories without a problem.