My Thanksgiving recipes and Fall Decorations Roundup was such a huge success that I wanted to do it all over again for the Holidays!
I have a ridiculous amount of tutorials and recipes for making homemade gifts for the holidays, birthdays, Mother's and Father's Day and so much more. You can see those recipes, plus all the articles in the Frugal & Healthy DIY Holiday event here.
But there are so many more lovely people with fun and beautiful ideas out there. I've learned a lot and been truly inspired putting this together. Separate, we can work on and improve the skills we have, but together we can brainstorm and reach into areas that we never even thought of.
This Holiday Gift Round up and DIY is exactly that. It's a chance to learn new skills and be frugal with your holiday. It also shows others how much they mean to you, that you would work so hard to give them something especially from you. You can add your own flare, that special something that is you.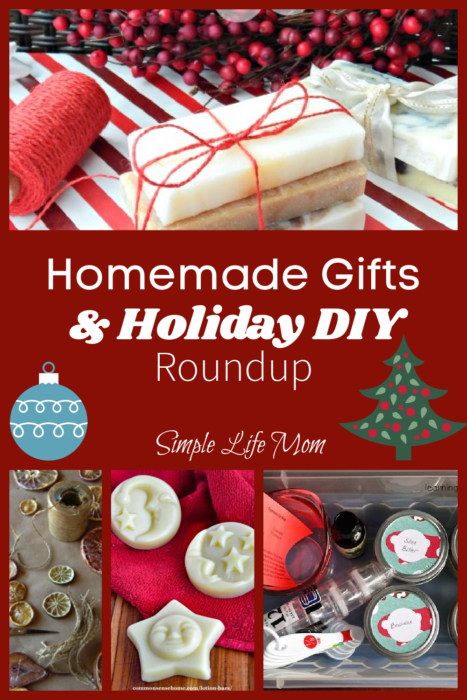 Trust me, if I give you a bar of soap, it's not just a bar of soap. I worked hard to design, create, and then wait for that gift to cure. It's valuable to me. Giving it to you means that I value you! This is how I see all homemade gifts.
Homemade Gifts
You'll find all kinds of homemade gifts below. I've contributed bath and body recipes, candles, and other goodies. There really is enough ideas for every person to find something that suits their own style.
Hopefully you will get the nerve to jump into making something that you've always wanted to, but have held back because of uncertainty. Now is the time! Learn to become more self reliant, contribute to your own family as well as friends, and learn a new skill all at the same time!
Holiday DIY
Holiday DIYs can be anything from decorations, to cards, to wrapping paper. It could be DIY mead, or even table design, sewing projects, paper crafts, or gardening for the holidays.
Have fun with what people have contributed!
Let the Holiday DIY Round Up Begin!
If you have a website and would like to contribute, just leave 3-5 links on topic and join in the sharing! We just ask that you keep things as natural as possible (less chemicals and dyes when it comes to things that touch the skin and stomach). I'm happy to support you and share your hard work as you share mine. Thank you!
You are invited to the Inlinkz link party!
What are you going to make? Let us know and how it turned out. Thanks for joining us!